The Dairy from the east. North-east elevation. Interior of the cowshed (Photo by Chris Mitchell)
Detailed study of the stonework on the Dairy threw up two interesting finds. Firstly on the inner wall of the livestock shelter we found a remarkable piece of graffiti: a horse or donkey, its body shaded in with vertical stripes giving it something of the look of a zebra! The block was clearly reused as the poor beast was nose down, I've turned the photo through 90 degrees to give a better view of it all. There are plenty of other marks on the stone, is it all part of a countryside scene with fields and fences?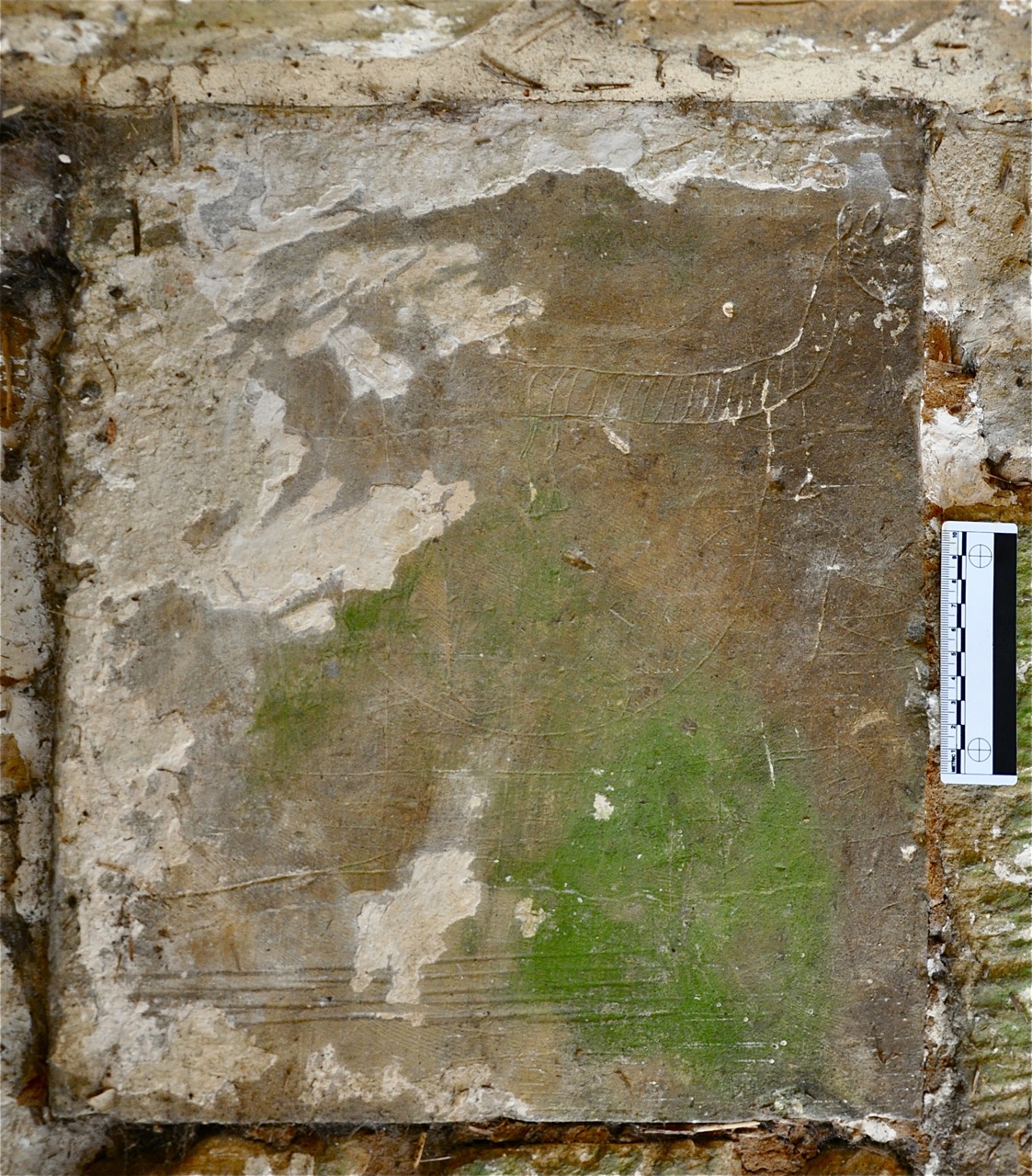 We have also been puzzling over some reused stone blocks on the outer wall.The faces have been carefully finished in a style known as tooled work using a special form of chisel called a claw boaster. Most of the faces of the stones are dressed with vertical furrows but the vertical edges are marked with horizontal dressing to a width of around 50 mm. I searched in vain for other local examples then found three exact parallels at
Chiswick House
! What does it all mean?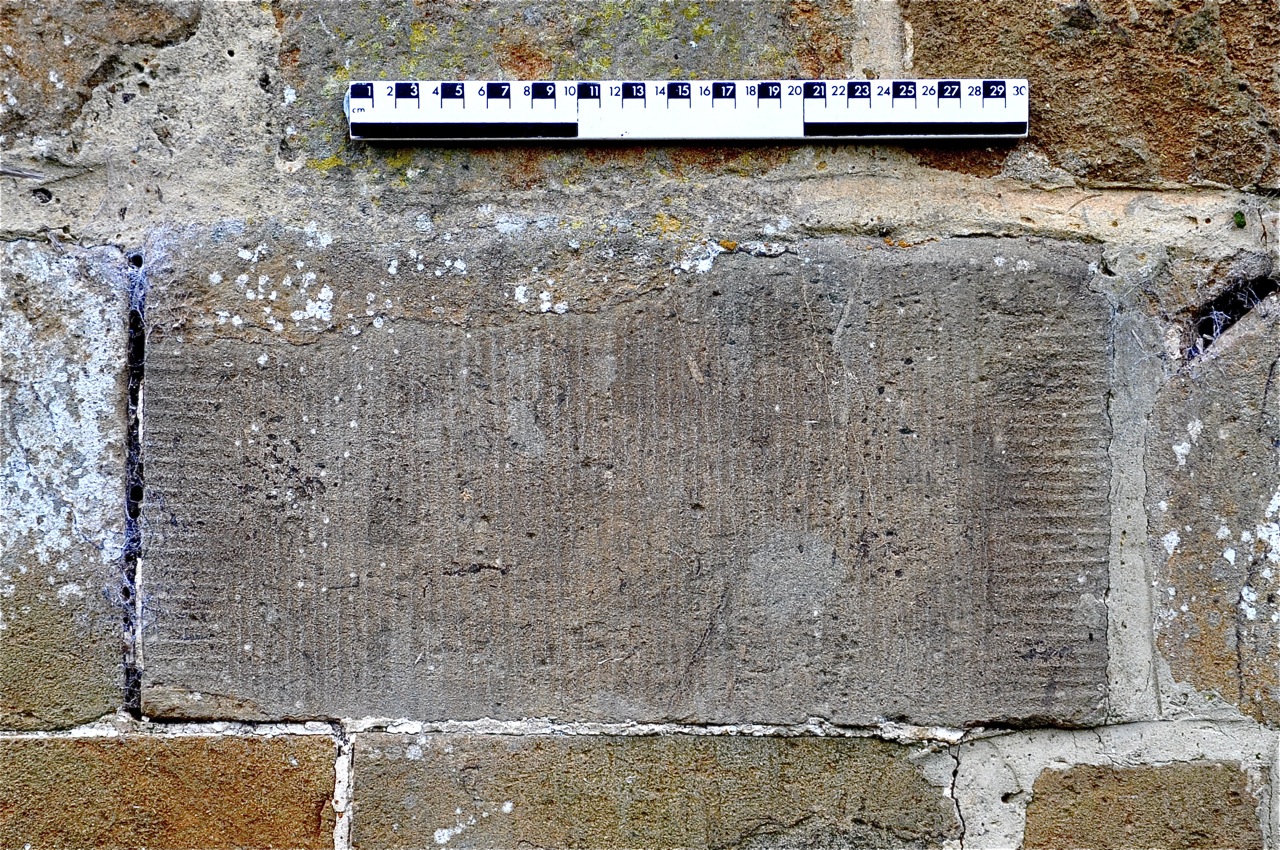 The continuing run of fine mild weather really made October and November particularly productive, here are few more snippets:
Illicit Pig Roasting at Farnborough?
One of the advantages of going over the ground repeatedly is you get the opportunity to see things that were previously overgrown. Several weeks earlier Peter Braybrook, a volunteer, and myself had been making our way round to the north side of the Canal when in the small patch of woodland next to the road we stumbled upon a scatter of bones. These were clearly pig bones from an extremely robust individual. What on earth were they doing here? Late night pig roasting? We certainly were not aware of any pig farming going on in the immediate vicinity. then local inquiries unearthed the tale that several years ago a wild boar had escaped from a farm further north into Warwickshire but more than that a local resident reported running in to such a beast (literally) in a car. Could these be the bones of the boar who, having been struck by a vehicle, dragged himself off into the undergrowth to die? Only the major bones remain presumably the lesser ones were scattered or dragged off by scavengers. In addition some of the bones show clear indications of gnawing. the marks look rather large for rats, would something like a badger chew on pig bones?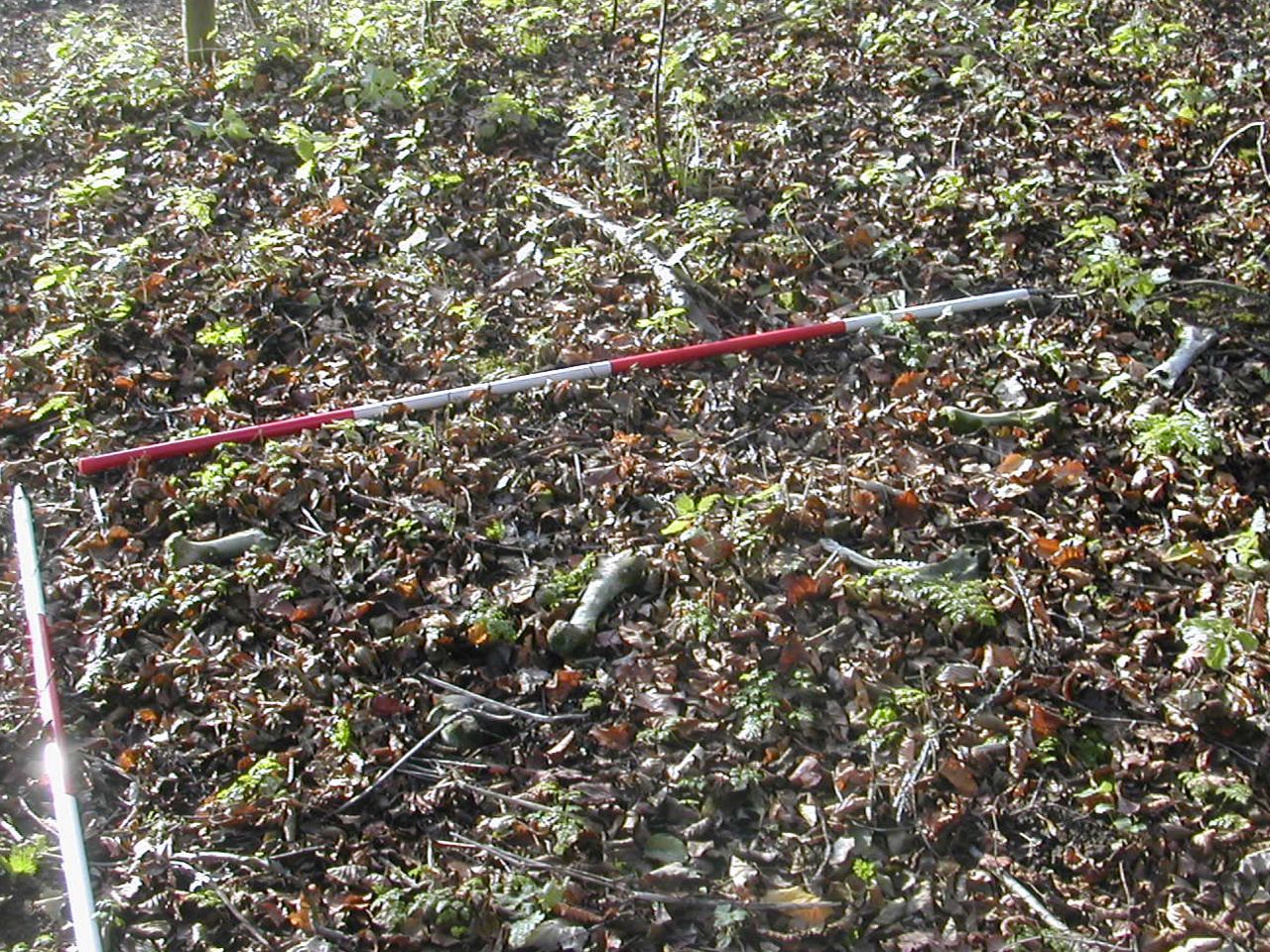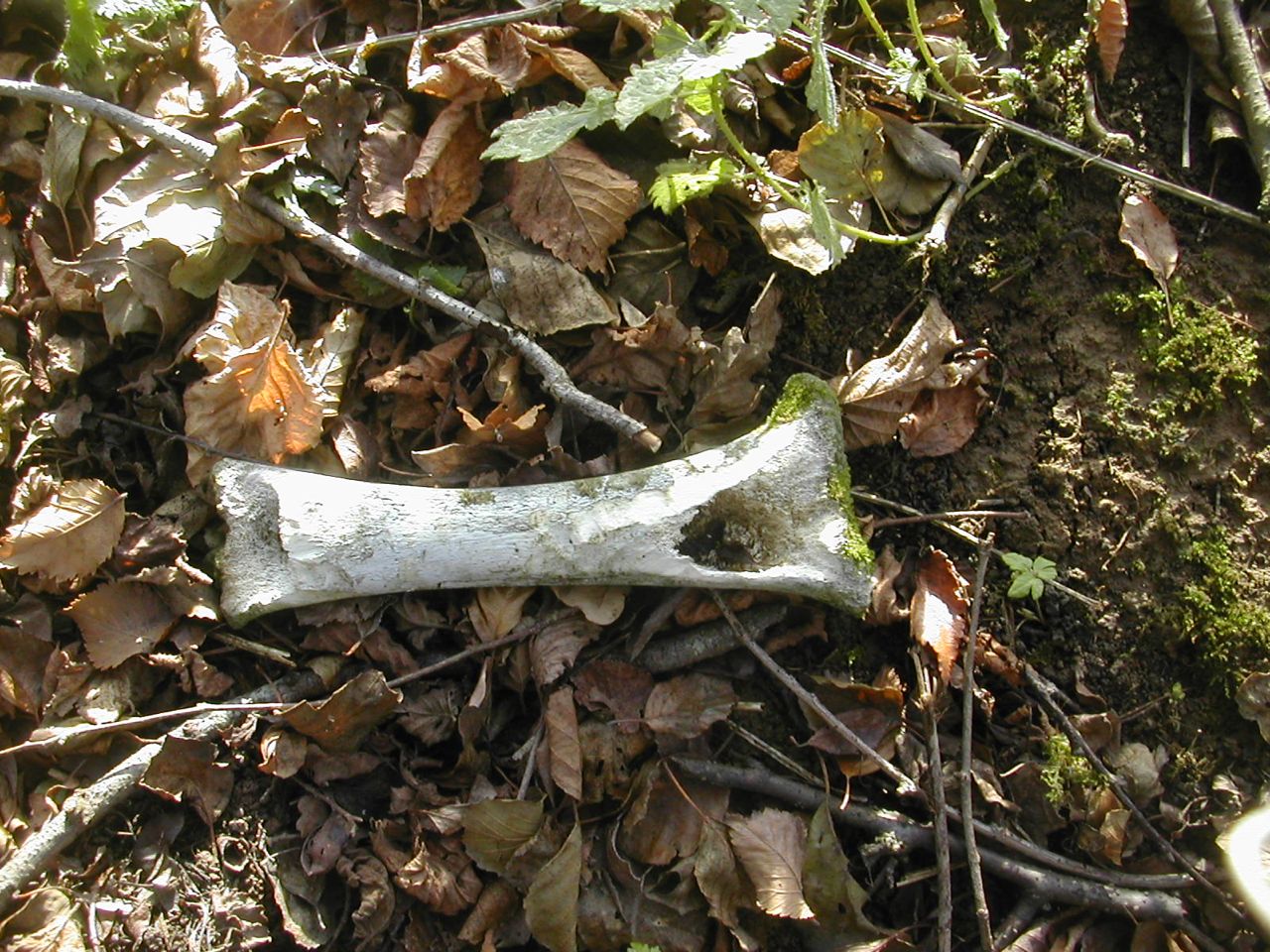 Remains of the wild boar? Close up of gnawed bone
Graffiti Revealed
We had long been aware to the graffiti carved into the parapet of the bridge on the lane to Banbury but late in November, on a particularly fine sunny morning, Chris Mitchell was able to take some remarkable close ups of the engraved letters, numbers and other marks. It is a valuable record to have and we hope at some time in the future to use various bits of image enhancing software to aid in their reading.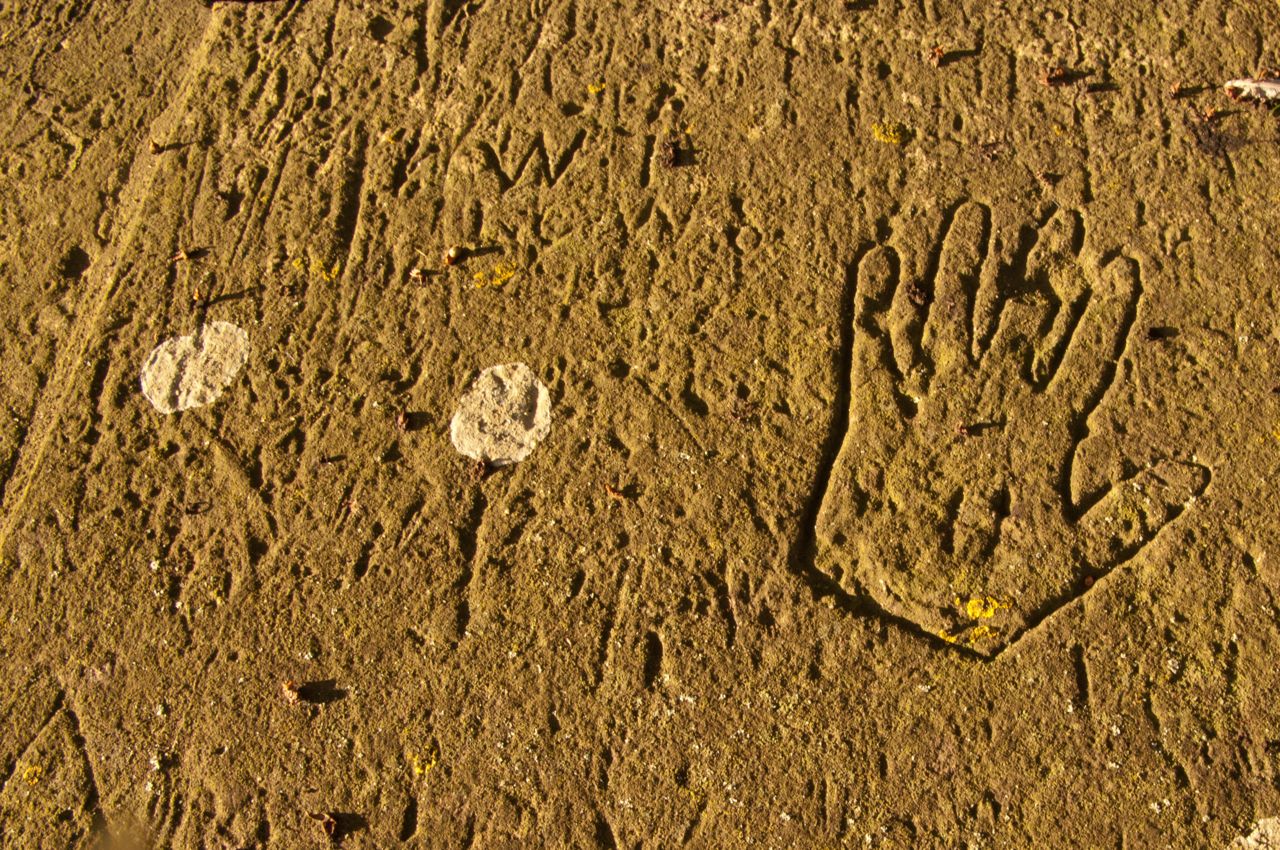 And now a word from our sponsor...
Not really, actually that's not such a bad idea.... Anyway my old VW Polo was approaching the end of its useful life and we made the decision to change it for something more productive. Several years ago I had owned one of the Suzuki 'mini-jeeps' : the Samurai and had used it in effect as a small pick-up truck. Designed for the jungles of South-east Asia these light weight, narrow beamed vehicles had a reputation for going places other 4 x 4s couldn't reach. So a call to the local Suzuki garage at Long Hanborough revealed that they had a number of the updated version - the Jimny- for sale, second hand. We came away with a remarkable vehicle which had had the rear seats removed and a boot liner and dog guard installed which struck us as ideal for toting around the equipment we need to work in increasingly remote sectors of the park. With a four wheel drive vehicle we could treat it as a kind of tool box on wheels and take it wherever we were working. To complement the existing fittings I also bought a set of roof bars and bolted onto that the kind of pipe carrier you see on plumbers' vans to store the ranging poles and a couple of ladder clamps as well. The only downside with this Jimny is that the previous owner had it pimped to within an inch of its life so that every conceivable part that could be chromed has been chromed plus it has front bars, side bars and a rear spoiler! Watch out for it on the road, there's nothing else quite like it around.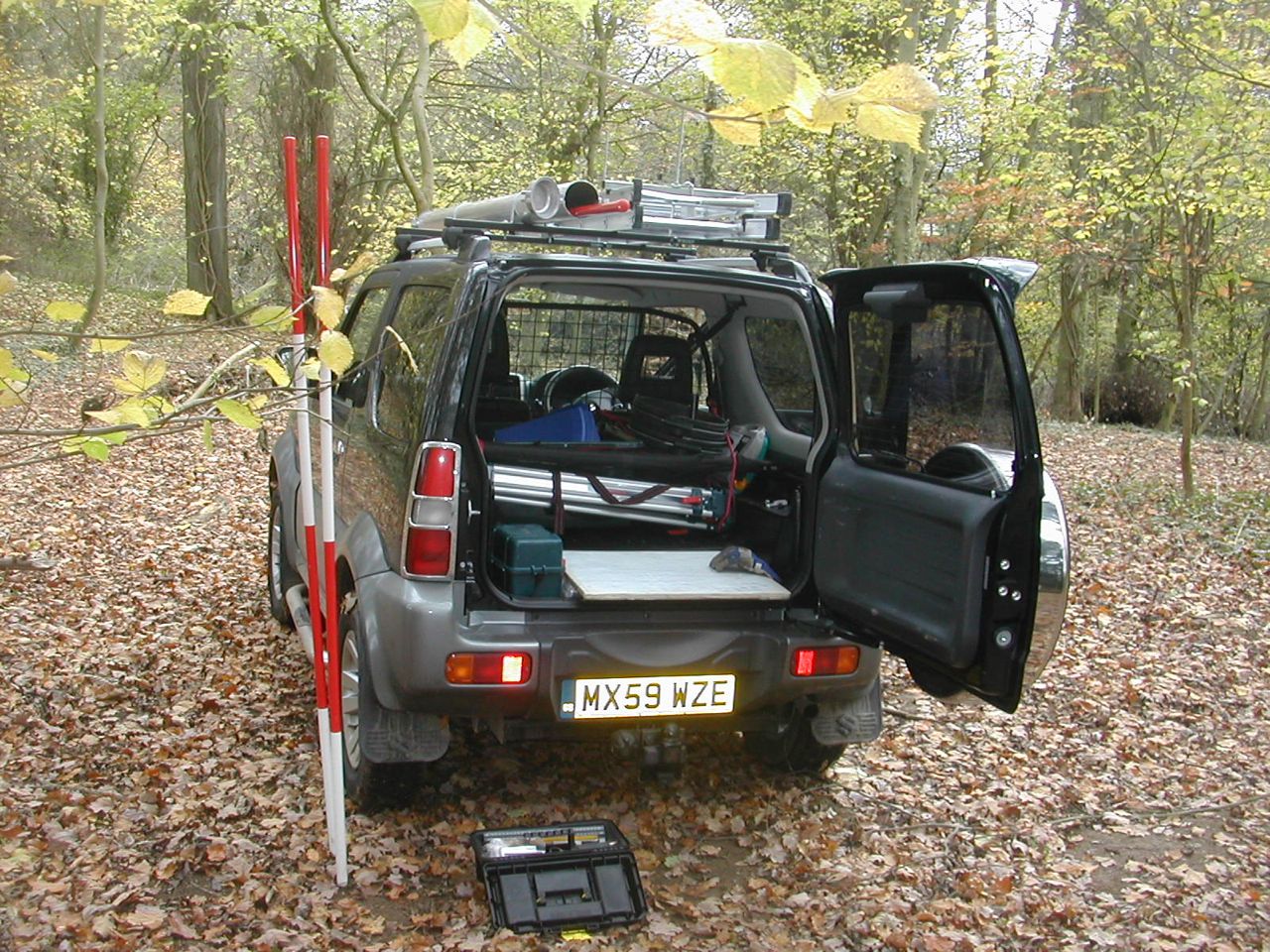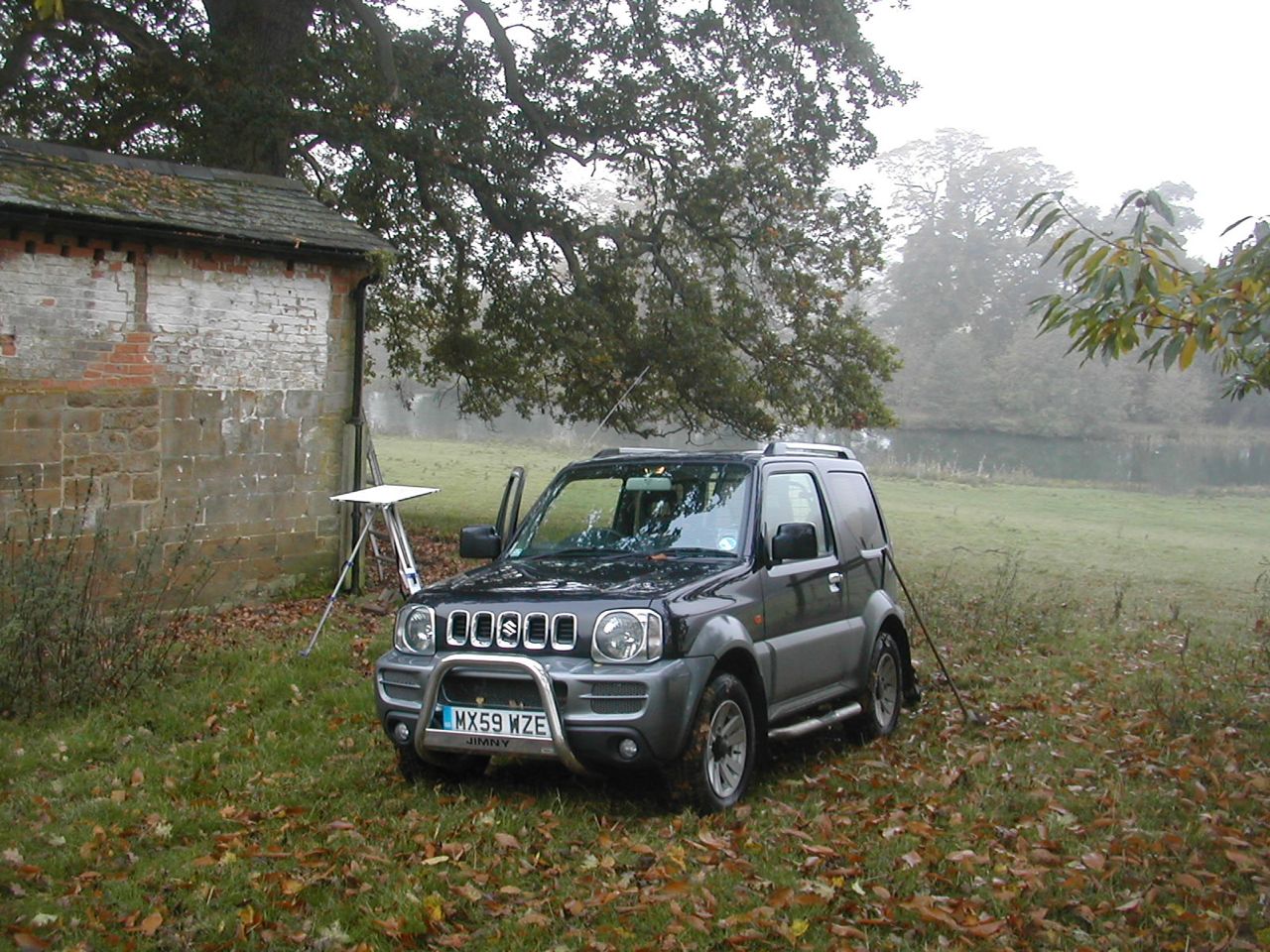 .