Following the excitement of August's 'big digs' and a brief holiday in Cornwall September saw us settling into a more relaxed regime with digging being scheduled for most Mondays and Tuesdays. After a wet and windy end to the previous month we had had to allow a little drying out time before getting back on site with a leaf blower to tidy things up. This enabled Verna to complete a marathon of rubble drawing whilst at the north end of the trench we continued removing the upper levels of silting. This revealed large fragments of garden urns at an unusually high level together with our first truly significant coin from an archaeological setting. None digging events included the installation of some splendid new shelving purchased via Oxfam for the finds department and a sort of near miss from a falling tree!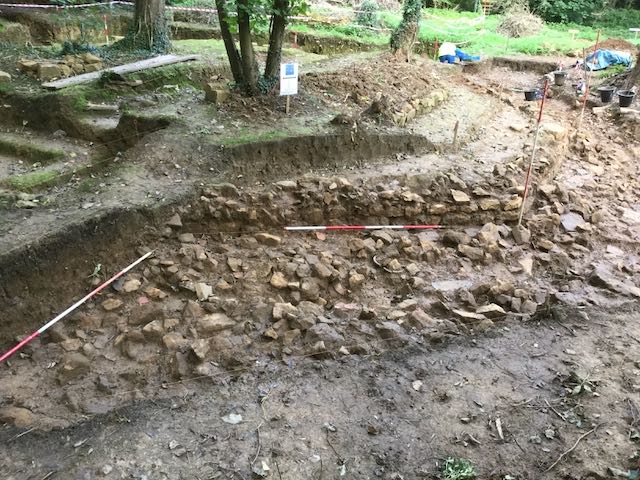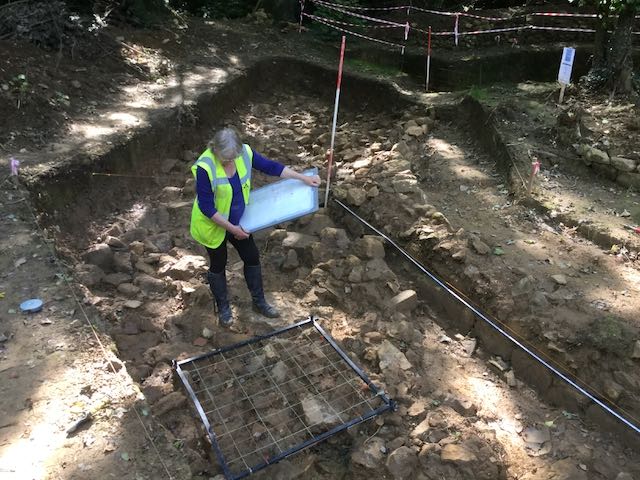 The south east side of our sea of rubble blown clear of leaves so Verna could see where she was at with her drawing.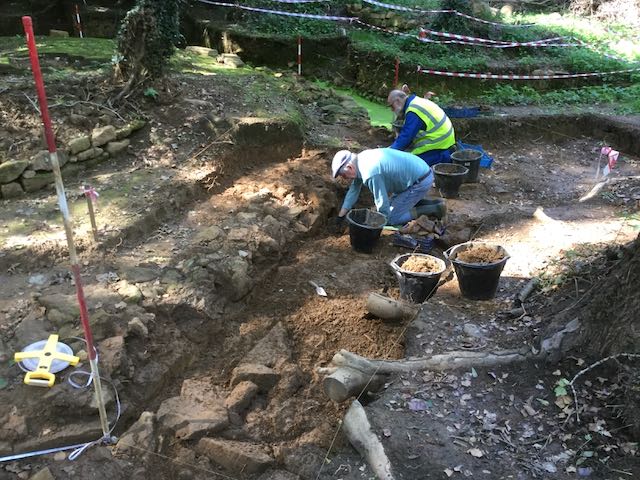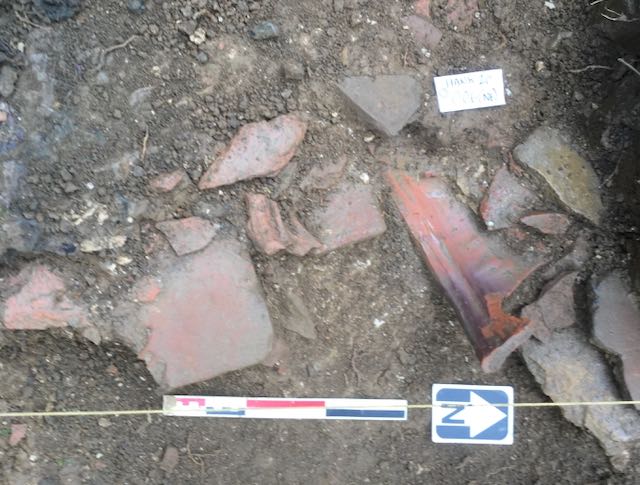 Eagle-eyed Andries (he spotted the coin) and Ian remove the last of the silt down onto an unusually dense spread of pot and tile.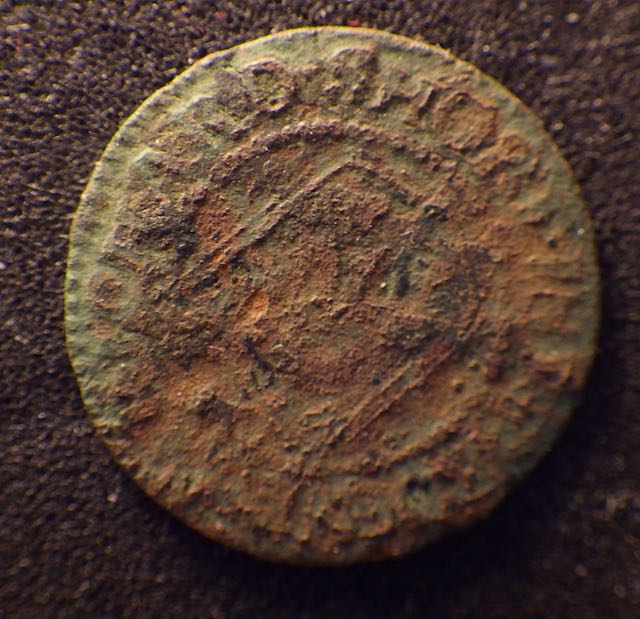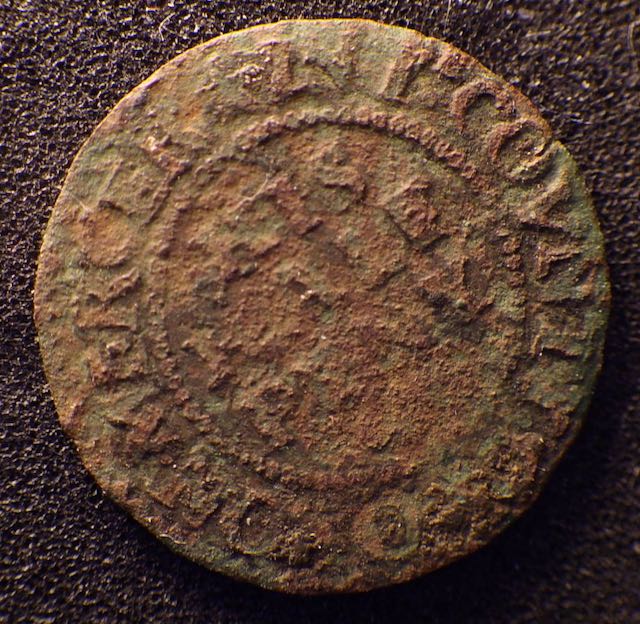 The coin cleaned up.
This is a 17th. century token, the PAS explain the context:
'To deal with a lack of small denominations in the regal coinage civic institutions and individual business
people issued copper-alloy tokens between 1648 and 1672 (1679 in Ireland); the end date resulting from the reintroduction of farthings in copper alloy by Charles II
.
On the obverse RICHARD.SHORT.IN.WARDENTON with the Grocers Arms
On the reverse IN.YE.COVNTY.OF.OXON.MERCER and in the centre HIS HALF PENY
Beesley had an example in his collection, see his

History of Banbury

p. 479
The
British Museum
has one that they date between 1649 and 1672 and another one was
sold in 2015
Assorted genealogical sites, none of which I can vouch for, have him born in 1638 and dying in 1715. His wife, name unrecorded gave birth to a daughter Anne in 1674. It seems likely, therefore, that the token dates from the late 1660s/early 1670s.
His headstone in Warmington churchyard reads, "Here lyeth the body of Richard Short who departed this life April 1st 1715".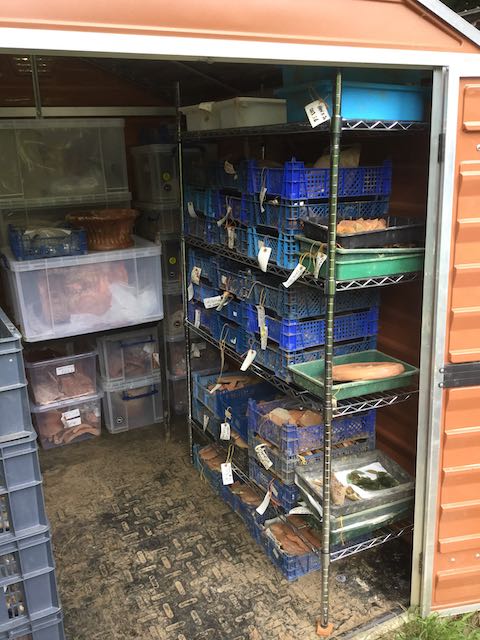 Never has the finds department looked so good with its new shelves and all...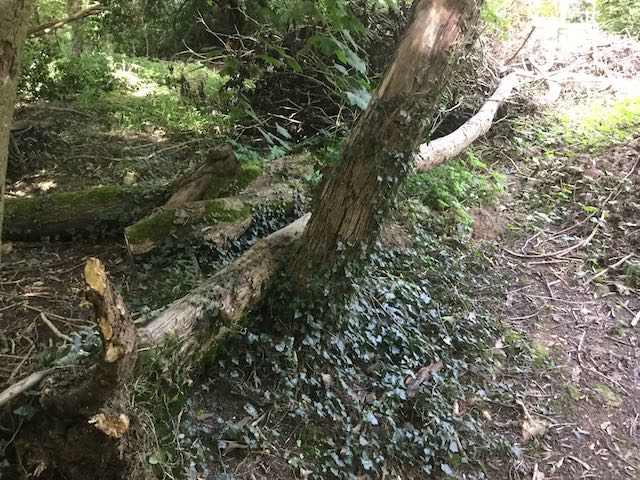 We are always wary of falling trees in high winds. This one came down on the stillest of days without any warning although to be fair it was dead and it didn't come our way.
Moving on the second week saw some pretty strenuous shifting of some remaining silts as we sought to close the gap between our current trench and the area where we first started over
three years ago
to complete the circuit. After a couple of days of exposing rubble we moved our focus back towards the rubble we exposed and recorded last month and began the tricky process of lifting rocks to reveal pots, and what a lot of pots there were. In one particular area there were six, maybe seven, it was hard to tell as they were lying cheek by jowl as they say, but it pretty well sets the agenda for the next few weeks of painstaking detailed digging.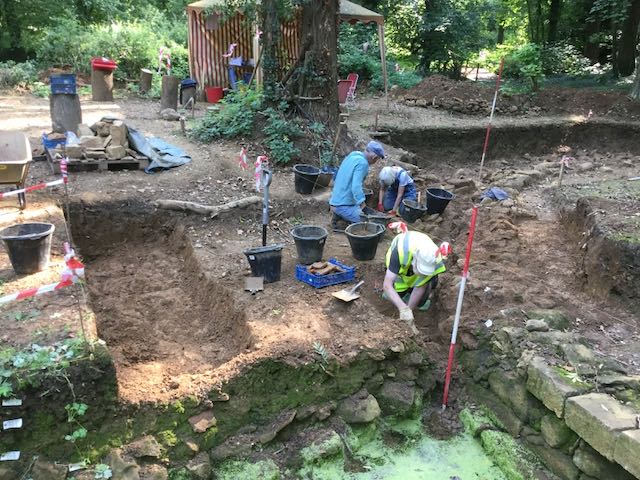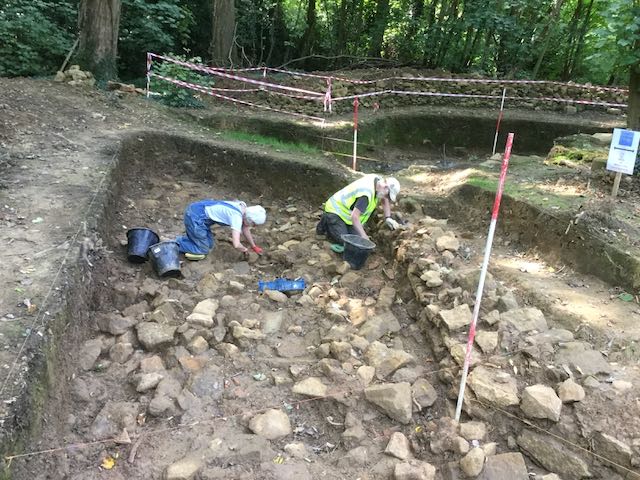 Ian hunts for the corner at the northern end of the north eastern side or the eastern end of the northern side depending on your perspective then its back to the pots.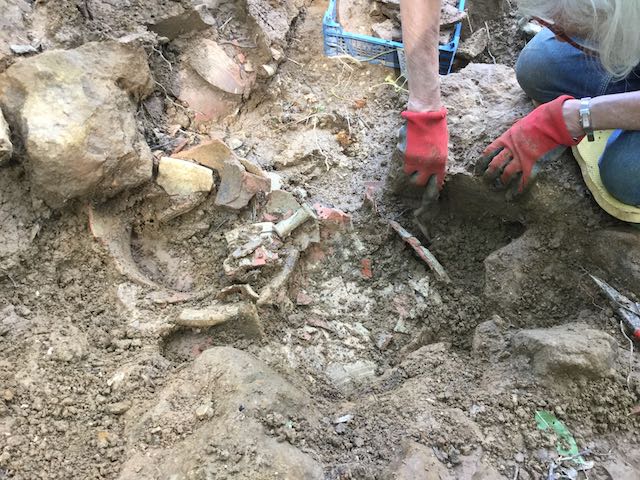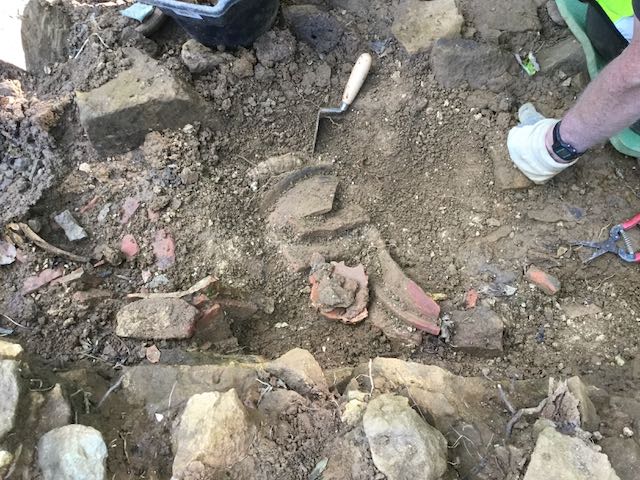 You can see here something of the complexity of what lies before us: pots on top of pots on top of pots?
September 18th. saw the start of five days of digging with Nathan fronting up to get the ball rolling whilst I had a really important meeting with some key players from the Oxfordshire Gardens Trust that may lead on to great things.... for the time being my lips are sealed! Then four full on days of digging. Work on the Saturday and Sunday enabled to welcome diggers with full time jobs for a the first time in a long time and moving on in to the week we saw four new volunteers getting acquainted with the project and the site. the weather was perfect and we made terrific progress both on the ground and up in the finds department where Verna continued putting everything in good order. Unfortunately once the autumnal equinox arrived the weather returned to the usual norms and in advance of this, realizing that we had weeks of work to yet on some of the most delicate deposits of interleaved pots and fragmented wall plaster, we put up a marquee.... and why not?
Another fine piece of relic spotting here, our forth prehistoric flint, a nice little arrow head.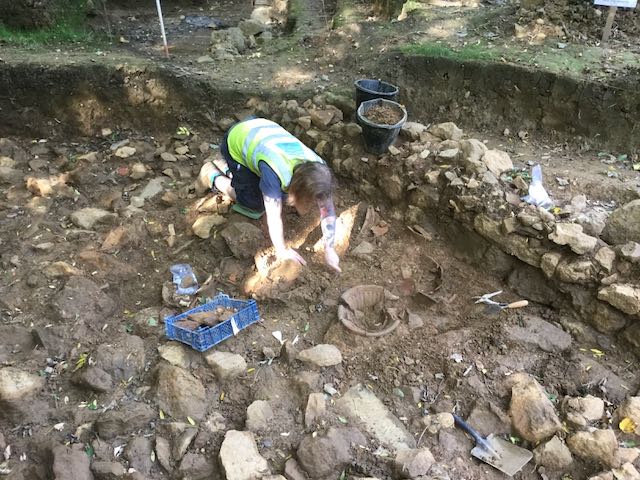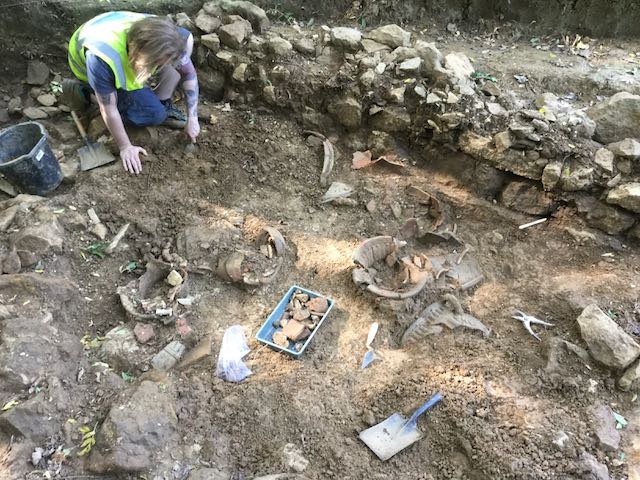 Nathan helped out with the first stages of rubble clearing / pot cleaning on a Friday morning and made great progress.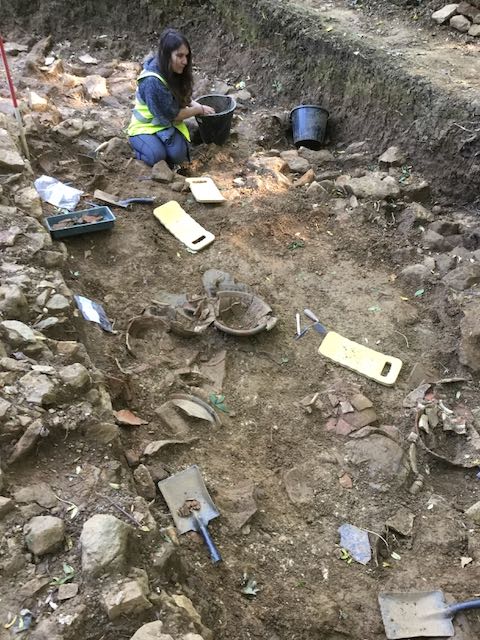 Over the weekend Pinelopi continued the campaign moving north...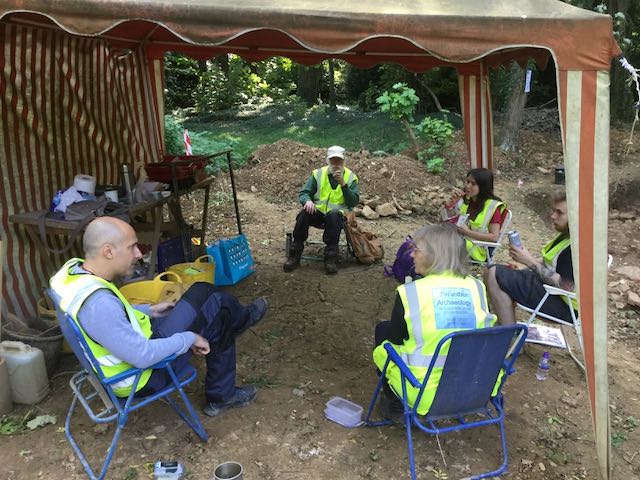 ... and lunchtimes were characterized by a truly international flavour, to quote a recent Instagram post:
It all began with a Belgian, then there were our transatlantic cousins from the USA and Canada followed by a Turk, a Malaysian and a Japanese.
Last month we had representatives from the frozen wastes of Iceland and Norway ( OK, I'm exaggerating the frozen bit) and now... diggers from Italy and Greece
so, come to Hanwell and meet the world!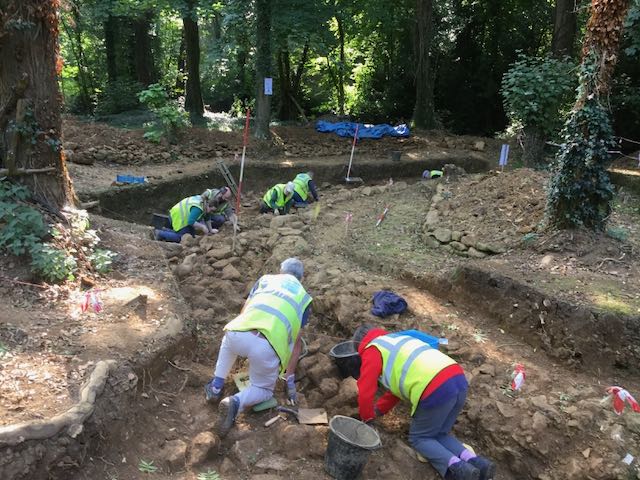 On Monday loads of new recruits: Amber, James and Olwen, possibly the most we have had on site at any one time for a while, but still operating within their household bubbles.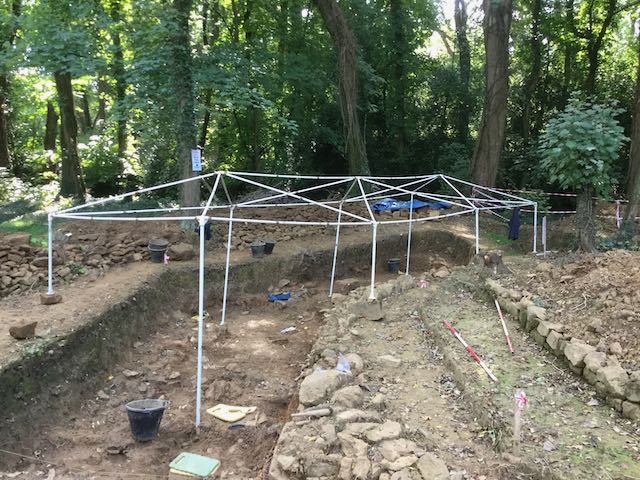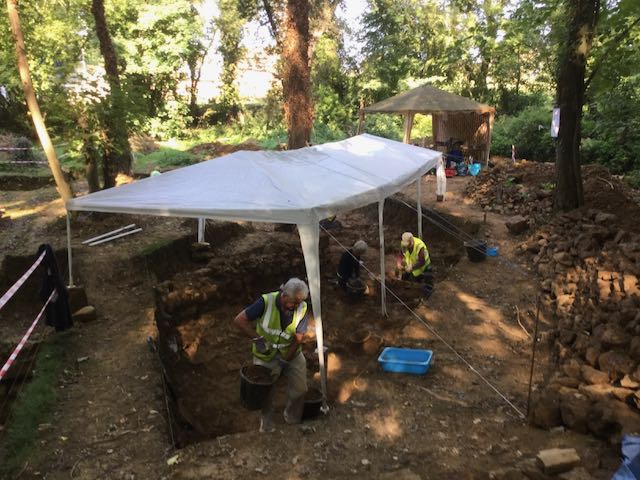 Well into September now and to cope with falling rain and falling leaves a temporary roof goes up.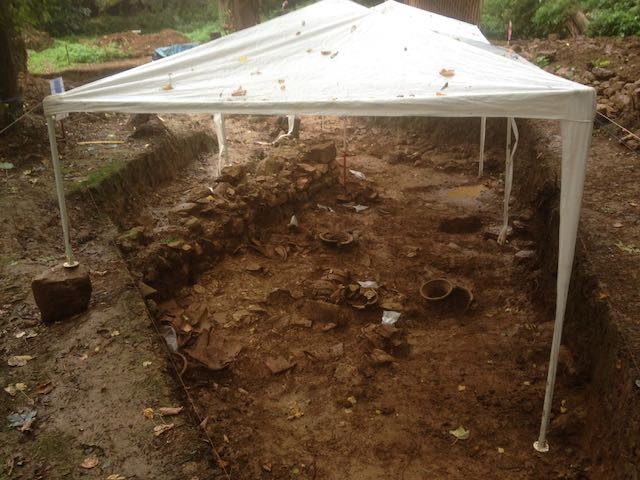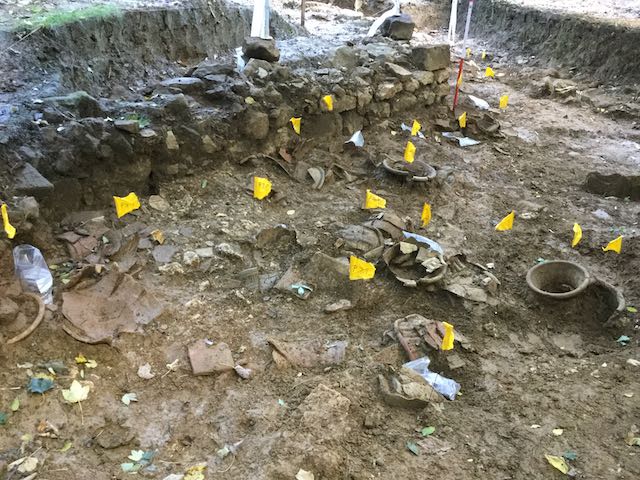 ...and sure enough the next day it rained but it didn't stop me having some quiet time to consider tricky questions like... how many pots actually are there? ... and then flagging them up.
Being under shelter gave us some protection from falling leaves and falling rain and on the Monday of the final week of the month we had more volunteers turn up than we've seen for a long time, car parking turned into an entertainment with a lot of shuffling motors to be done. The removal of the last few hunks of rubble along the east side was accomplished and the exposing of the rubble on the north east side was also completed. Finally a start was made on removing the final baulk giving access to the island from the south replaced by a plank bridge giving access from the north.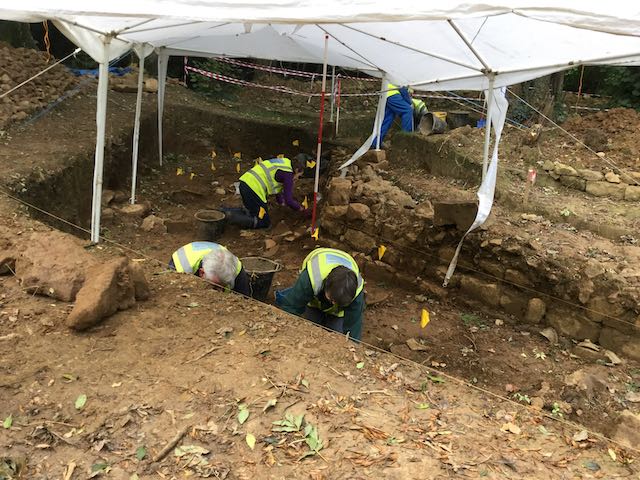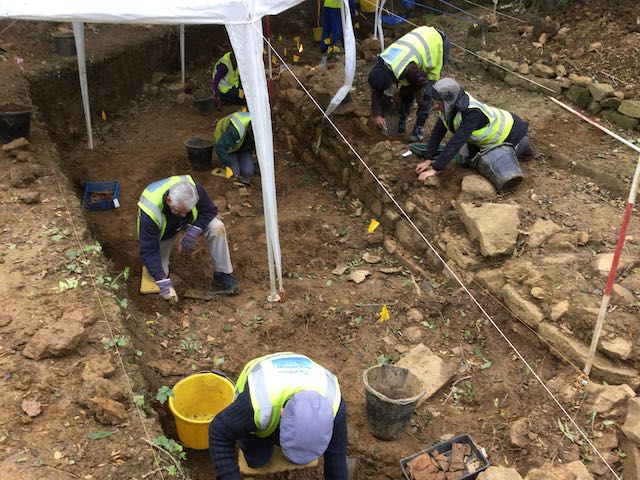 The crowds at work as the last of the rubble is lifted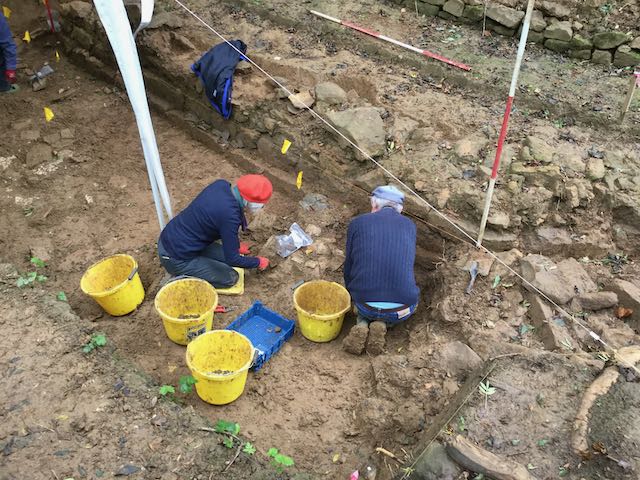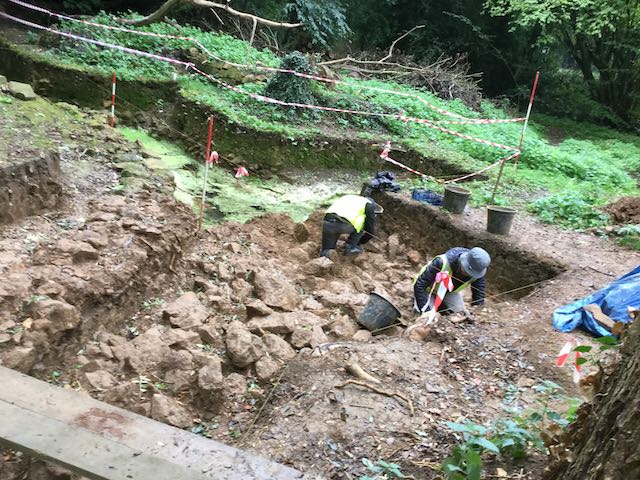 Andries and Chris explore a knotty little collection of pots whilst William and Phillip finish a little rubble polishing.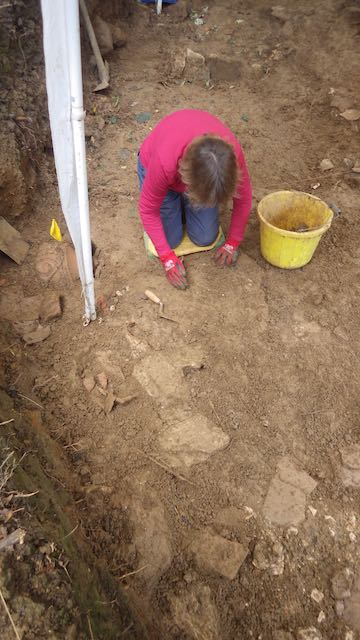 Liz uncovers an unusual density of stone roof tiles whilst John presses on with baulk removal and in the process uncovers...
... a burial! Not sure what of yet.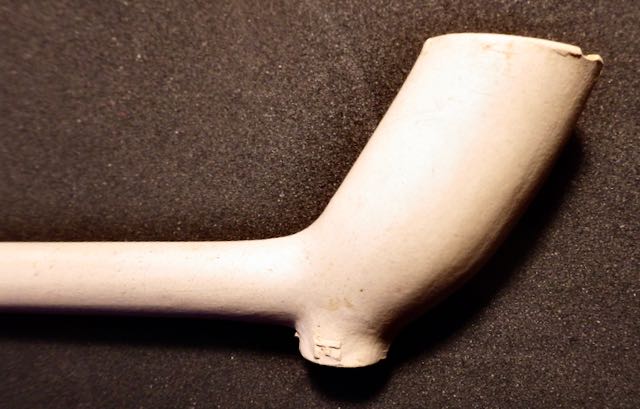 Of even more significance, the first clay pipe excavated with the makers initial;s stamped onto the foot: E C (or possibly G) .Research now needed to to track this individual down.
And finally, more Hanwell trivia. When not digging I have an unfortunate weakness for crime fiction to then point that I consume it at a dreadful rate, roughly a book a day, and here is an unusual reference to Cope Castle, built by Sir Walter Cope early in the seventeenth century and later renamed Holland Park. Sir Walter may well have been responsible for the major phase of garden making at Hanwell at the same time.