As we moved on through the month our campaign of pumping continued to the point where we were able to get onto the last remaining portion of rubble (009) to start drawing it. However, everything else remained pretty damp so we transferred some of our work force to the centre of the island in a last ditch attempt to identify the course of any in-coming pipework or out-going drains. As attendance at our regular Monday and Tuesday sessions had jumped to around a dozen... don't talk to me about car parking, and since the storm it was obvious that putting a cover over part of the site was useless, we moved the marquee onto higher ground to give additional shelter for everyone. In a further move to promote social distancing we reopened two nearby trenches and indeed extended them. The first, HAND, also known as 'the second sluice', had become increasingly boggy so John made an excellent job of, as they used to say in the US, 'draining the swamp'. We also extended the trench a further metre to the west to try and understand the odd complex of walls in the approach channel. The other area returned to was HANL, an area including the remnants of a wall flanking the terraced walkway south of the water parterre. This trench was also extended, this time to the east, to pick up another area of large rubble and a not so old tin plate.
As most volunteers had not had an opportunity to tour the lower part of the valley we laid on a brief excursion to visit the remaining dams and the meadow on the south side of the valley to admire assorted earthworks. In a brief detour we took a look at the site used by a small contemporary, but unwanted, group of party goers. From the point of view of those archaeologists who study early transient populations of hunter / gatherers this was quite interesting with remains of a central fire and logs and branches pulled together to create temporary seating. Of interest to the criminologist was evidence of alcohol and drug use but strangest of all, and surely of some ritual significance, yes I know, a term much over-used in the past by archaeologists, but what else could it be, a bunch of fresh lilies.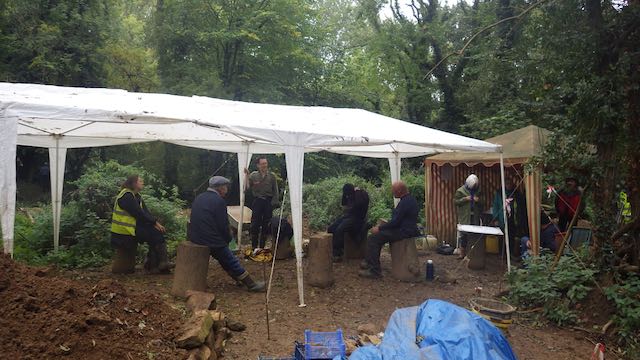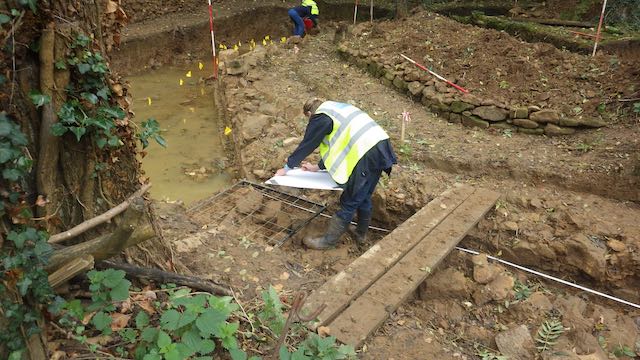 Our new, expanded shelter and social facility, pull up a log and sit down. Helen makes a start of drawing the final stretch of rubble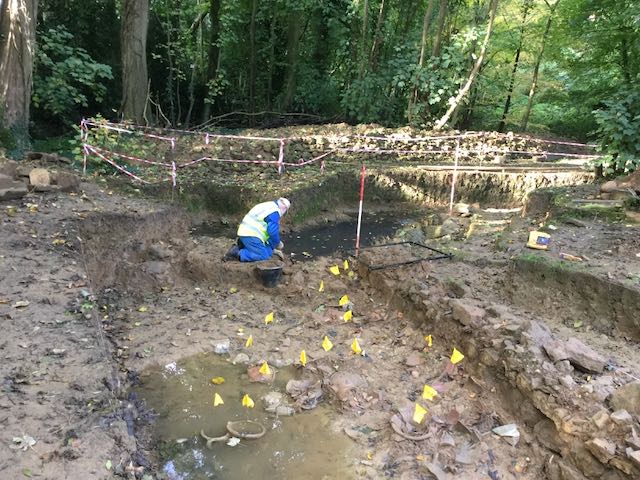 Ian continues removing the last section of baulk whilst Amber gets to grips with drawing the south eastern section of walling.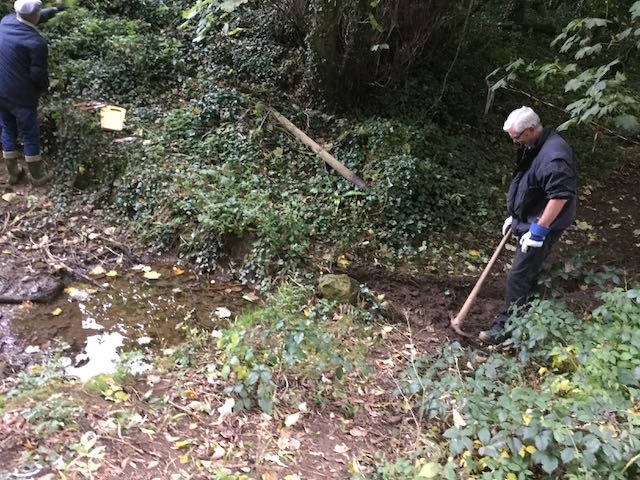 Some un-civil engineering as John begins to drain the swamp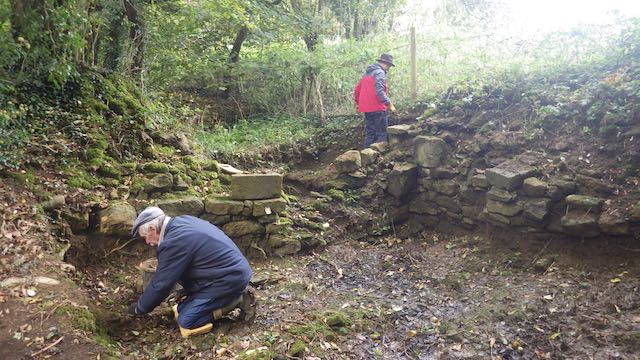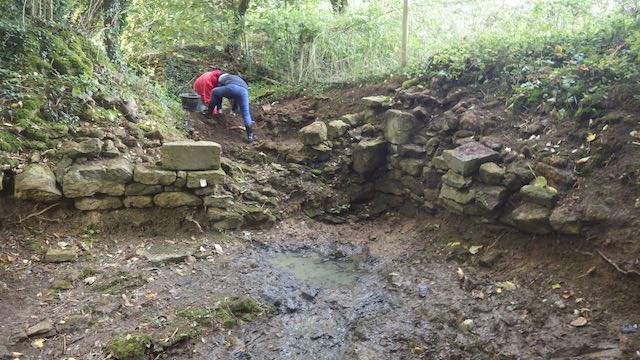 Andries and Paolo undertake more archaeological weeding. The following day we extend the trench ever westwards,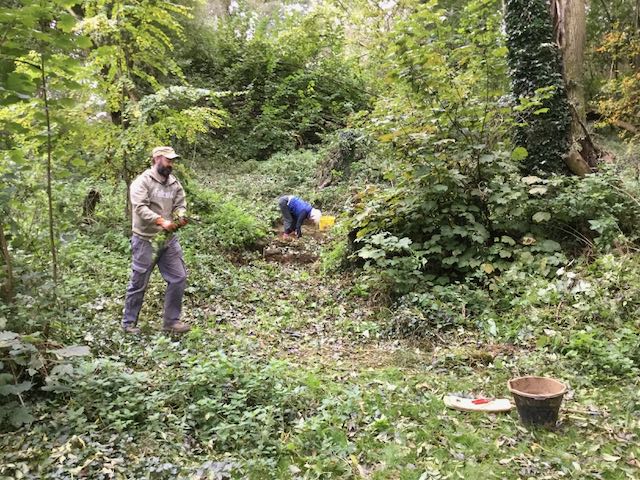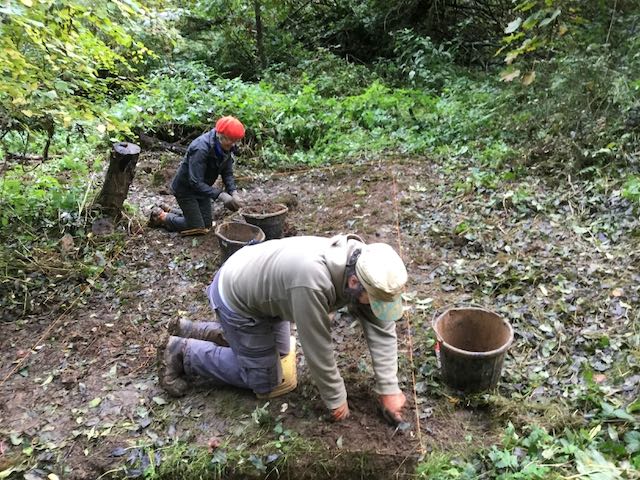 Meanwhile Chris and James, after some severe nettle chopping start to explore the line of the wall heading east...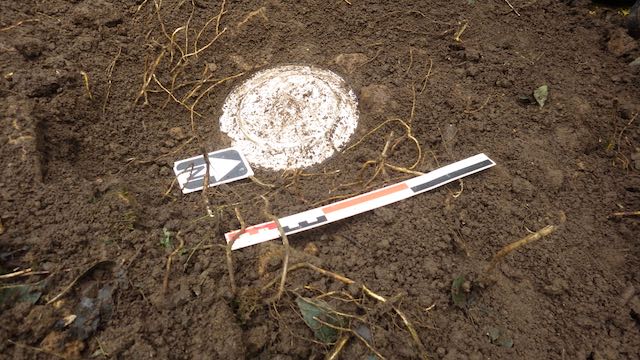 ... but it was John who made the find of the week, a well preserved enameled tin plate marked on the base FALCON, HONG KONG
( In the 1920's J.Kleiner & Sons established the name and manufactured Falcon Enamelware in England. As the production cost increased, J.Kleiner & Sons moved their production to Hong Kong in 1972

)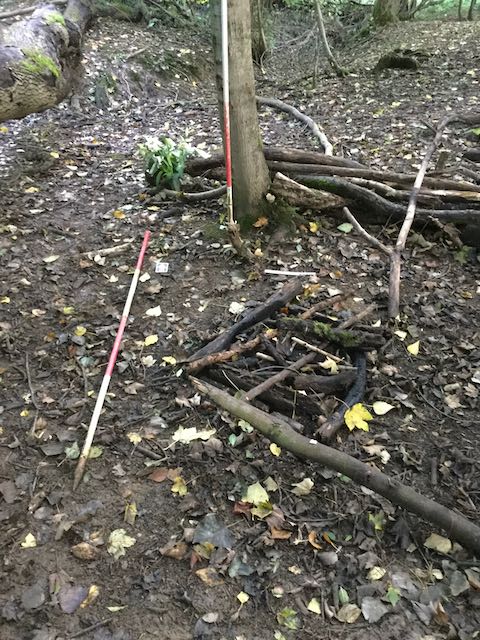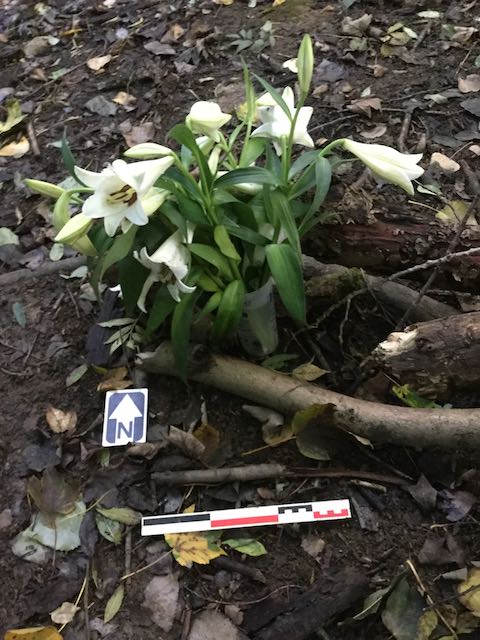 Our outdoor yet probably illegal party venue with fire and flowers.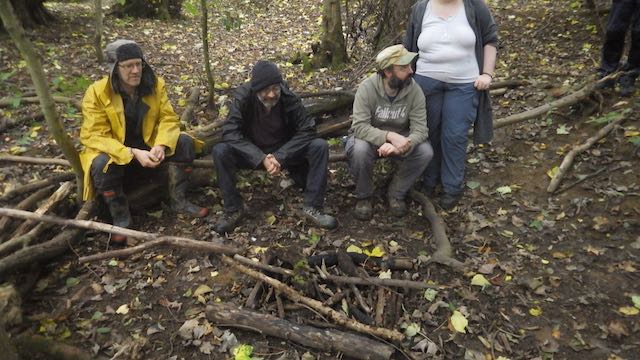 Experimental archaeology in action as some of our volunteers take on the role of party-goers, note, no drugs or alcohol were consumed during this reconstruction...
Pumping to keep water levels down and blowing to shift the autumn leaves off of the site became two all consuming interests. The problem with excavating the silts as exposed in the south east and eastern sections was that although when troweled they presented quite a firm and compact surface, even when under water, when walked upon they rapidly turned into porridge. This meant increasingly having to juggle planks around and use sheets of ply (Thanks John) as surfaces to work from. Digging resumed on top of the island in a last ditch attempt to establish the presence of either in-coming pipework or out-going drains, at least it's dry up there. Finally the last area of destruction rubble, known universally as 009, started to come up and below it, yes more pots. In the odd idle moment I've been thinking about reconstructing the House of Diversion, at least on paper, with a view to commissioning a professional artist to illustrate it for us. It's an exercise that certainly promotes thinking and forces one to come to some conclusions... see below.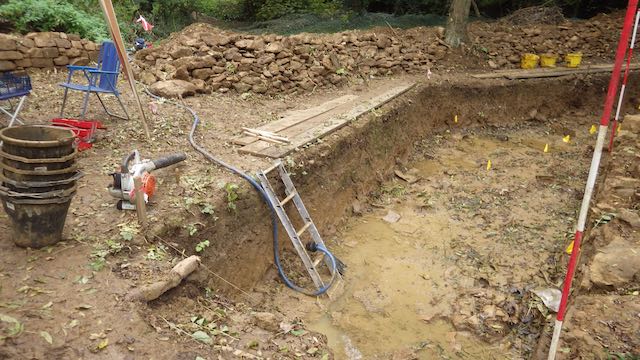 The pump and the leaf blower and the aftermath of having them in use.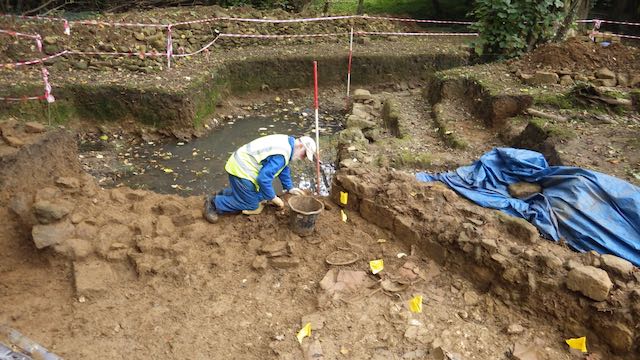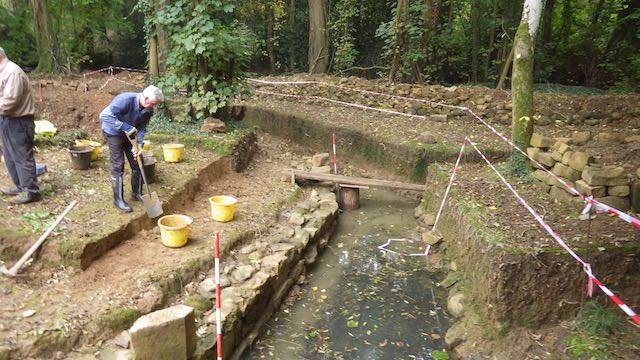 Ian examines pot number 53 whilst Peter and John settle in to the spadework necessary up top. Note the new bridge on the west side.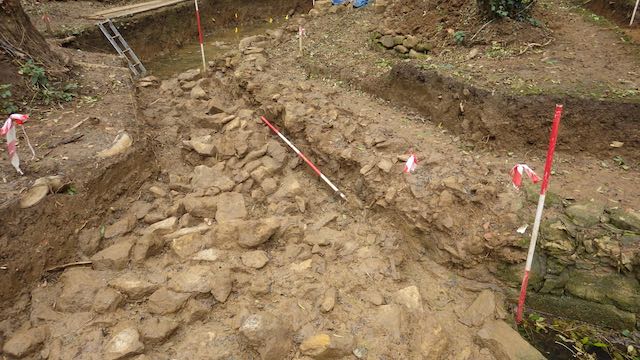 The last expanse of 009, drawn, photographed and ready to lift.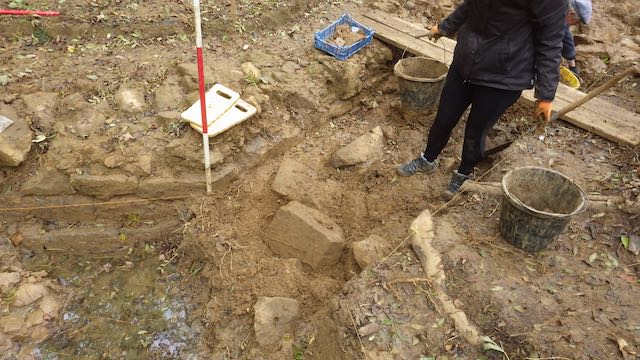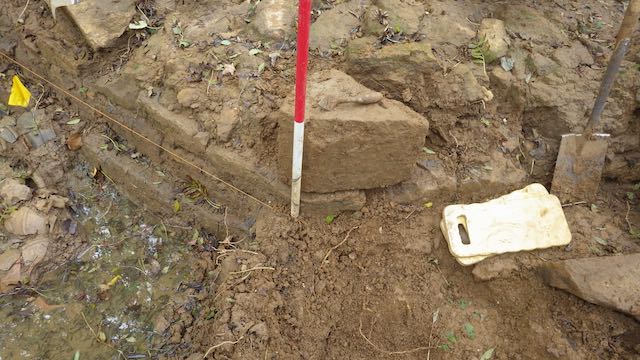 Rosie made a start and uncovered fairly rapidly a new corner block that was with equal rapidly reinstalled.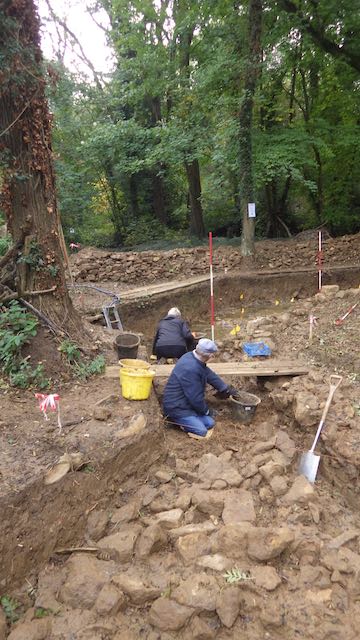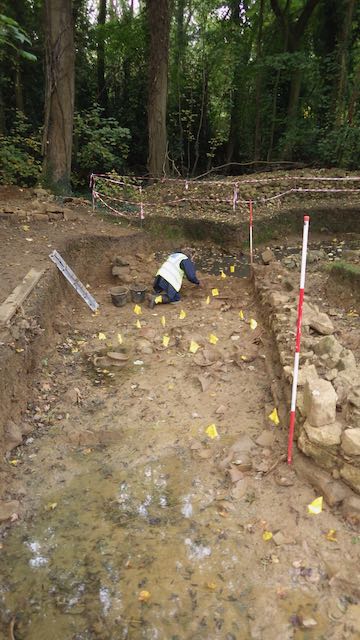 Andries starts to sort out his share of 009. Helen tries to avoid sinking into silt.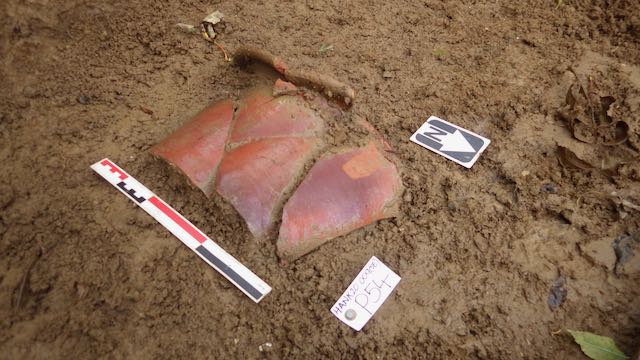 ... and we are ready to start lifting pots, P54, a straight forward flower pot will be the first to go.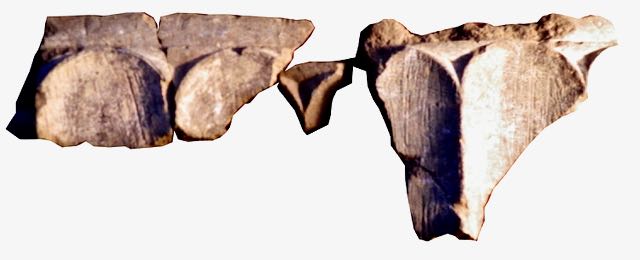 Up in the finds department these fragments are washed and put together and Verna spots they are part of a large diameter steep sided bowl, possibly the lowest tier of the fountain?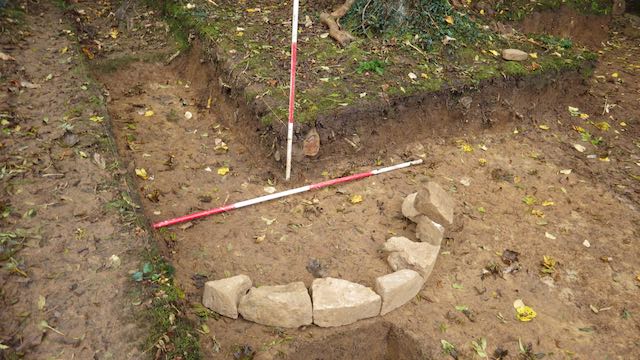 We have had a significant number of blocks with a curved face that can be assembled as above to form what I believe to have been the fountain's base.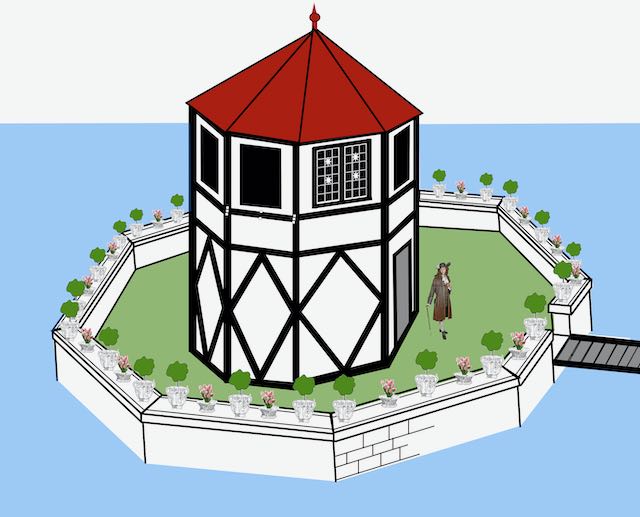 ..., and here's a first look at my first attempt to build a House of Diversion, at least on paper.
... and here, for anyone interested, are a few notes on the thinking behind this image:
Reconstructing the 'House of Diversion'
A key question must be how confident are we that the site excavated is in fact the location of the House of Diversion as described by Plot? To recap Plot's description:
There are some other Water-works at the same Sir Anthony Cope's, in a House of Diversion built in a small Island on one of the Fish-ponds , Eastward of his House, where a Ball is tost by a Column of Water and artificial Showers descend at pleasure; within which they can yet so place a Candle, that though one would think it must needs be overwhelmed with Water, it shall not be extinguish'd &c
We are certainly on an island in the right location relative to the house and as it is described as 'built' we must assume a structure with walls and a roof inside which are the waterworks. Putting fountains and other water-powered special effects indoors is not particularly unusual, we saw this at Enstone and Wilton, although in these instances the structures were elaborately decorated grottoes. Perhaps a relatively plain setting for the Hanwell waterworks underlines a more studied approach to the engineering involved.
The evidence we have as to the precise conformation of the building is all rather circumstantial and based almost entirely on destruction debris recovered from the moat. The presence of a high proportion of tapered ridge tiles suggests a pyramidal roof arising from a square or octagonal floor plan. The presence of large quantities of wall plaster formerly pressed against timber laths indicates a timber framed building with evidence of a 'pebble-dashed' effect on the outside and combed decoration on the inside. There is ample evidence for glazing with fine sheets of cylinder glass set within lead cames. The shaping of the surviving fragments of glass point towards a simple design of upright rectangular panels with at least one of them being marked with a large engraved star. This was a very unusual find and hints at decorative elements that match quite well with an interest in natural phenomena, indeed, may even constitute an invitation to observe the heavens through the windows of the House of Diversion. The floor levels were removed as part of the programme of leveling the island and filling in the moat but a number of thin carefully finished slabs were recovered. It is assumed that the fountain capable of suspending a ball in the air and creating descending showers was placed centrally within the building. Evidence for this includes a large portion of stone bowl with a diameter of 2m (6 feet) and pierced at three points for incoming pipework and a small copper alloy quill, a thin bore pipe used to create fine jets of water. Several finely shaped fragments of ironstone moulding were also excavated none of which would fit with any conventional architectural element of such domestic features as door or window surrounds. The fact that the fountain also had to provide descending showers suggests that there may have been some kind of superstructure, a simplified version of the canopy over the early seventeenth-century fountain at Trinity College, Cambridge springs to mind.
In considering the ground plan of the building the existence of the small octagonal banqueting house within an octagonal moat at Hunstanton Hall, Norfolk is perhaps the most suggestive parallel for an eight-sided structure and given the setting and the likely presence of a central fountain on a circular base this is probably the most aesthetically satisfying arrangement. The overall dimensions remain a similarly speculative matter although given that the diameter of the fountain base would have been around 2.5m (8 feet) and allowing room for circulation whilst avoiding occasional splashing then a minimum diameter of 6m (20 feet) for the whole building seems about right. If the fountain was to perform such tricks as tossing a ball on a column off water and given the possibility of a fairly elaborate superstructure, then we should perhaps cater for a minimum of 4m (12 feet ) for the display to show at its best. Allowing for clearance above this we are considering a structure equivalent to a building of two stories albeit open to the roof on the inside. Such a timber framed tower finds parallels in contemporary dovecots such as the example at Wichenford,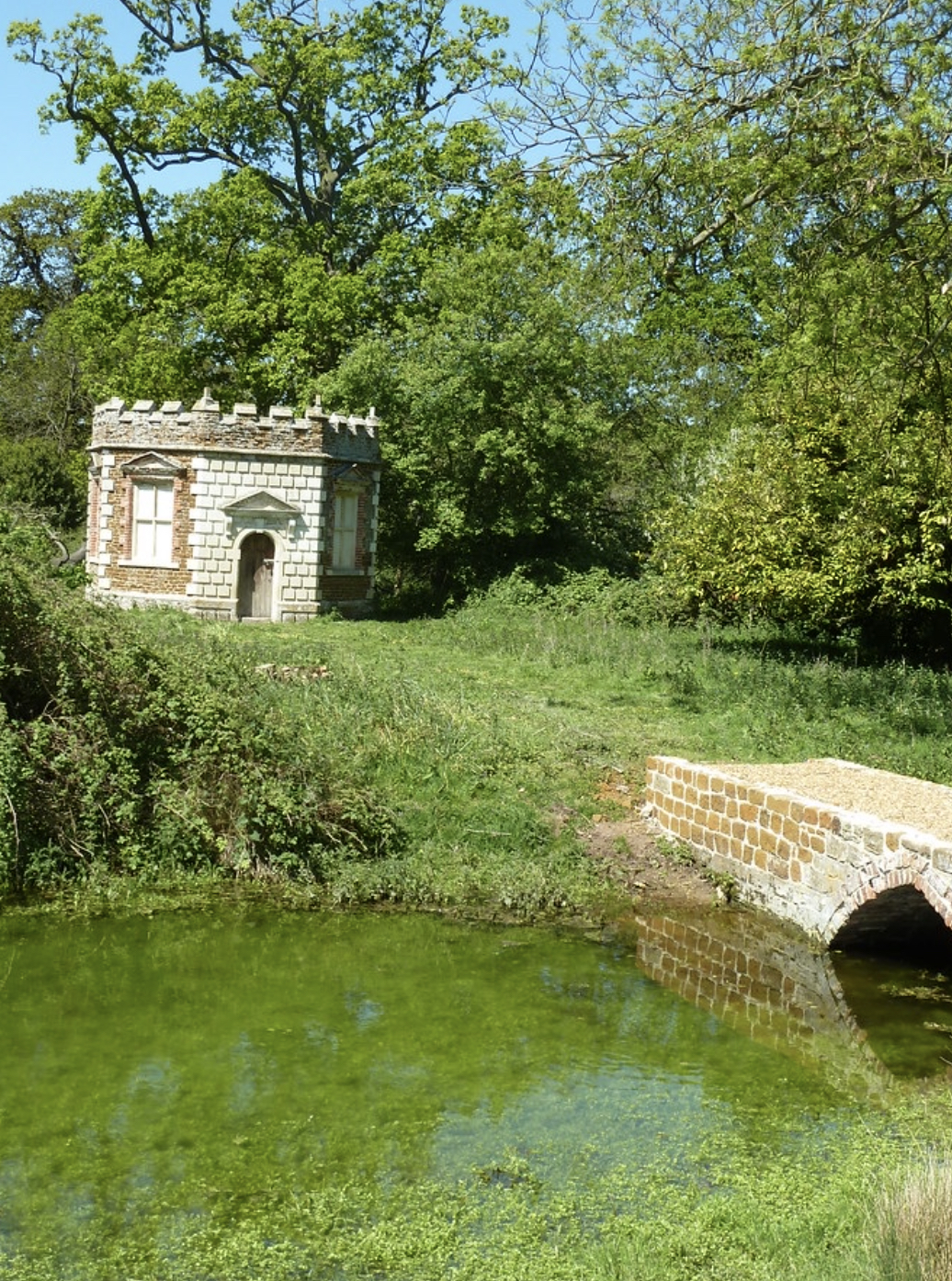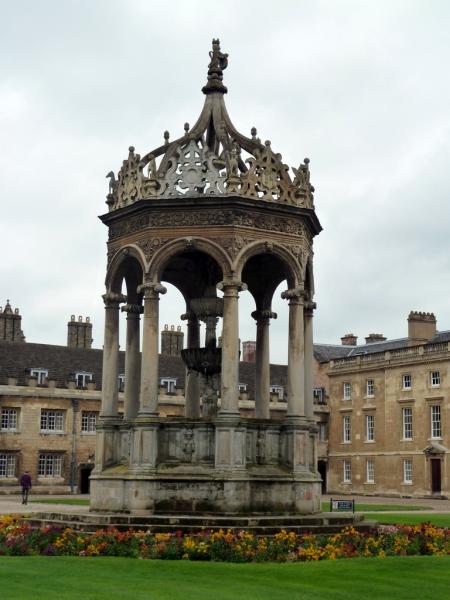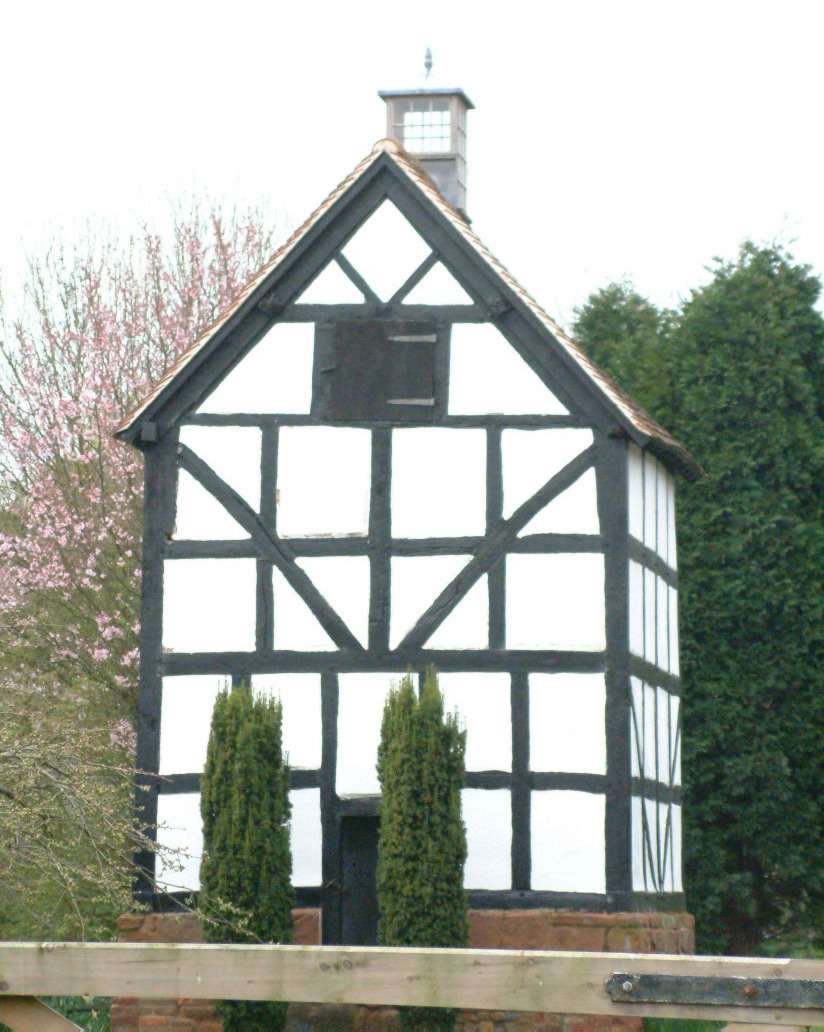 Inspiration: The Octagon, Hunstanton, The fountain, Trinity College, Cambridge and the Dovecote at Wichenford.
The last week of the month was billed as the autumn 'Big Dig' and we were hoping to welcome back loads of people who had been with us back in the summer and were on their half term break and were keen for more digging. As it happened varying levels of restriction because of Corona virus meant we weren't able to assemble the full crew but even so, and despite the poor weather, we had a very rewarding week with new discoveries coming thick and fast, read on...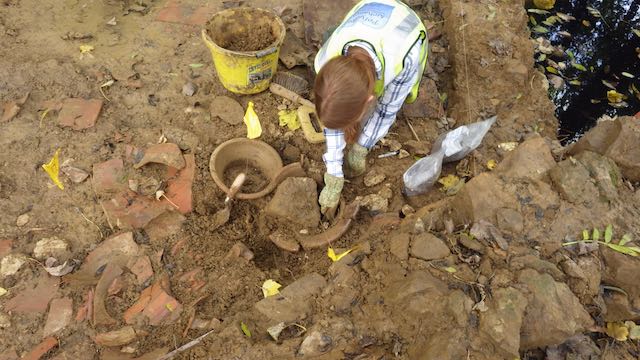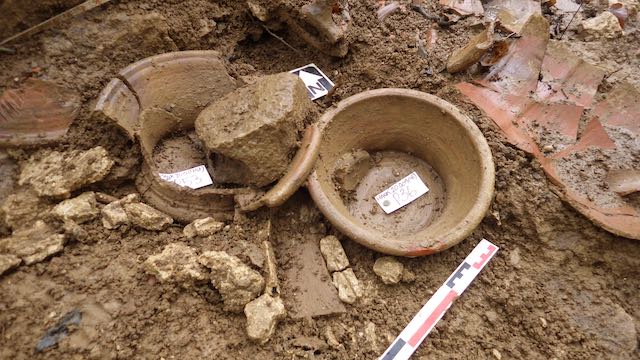 We were now in a position to start lifting pots and spiriting them away to the finds department. Jasmine is cleaning round pot 37, could it be, could it be?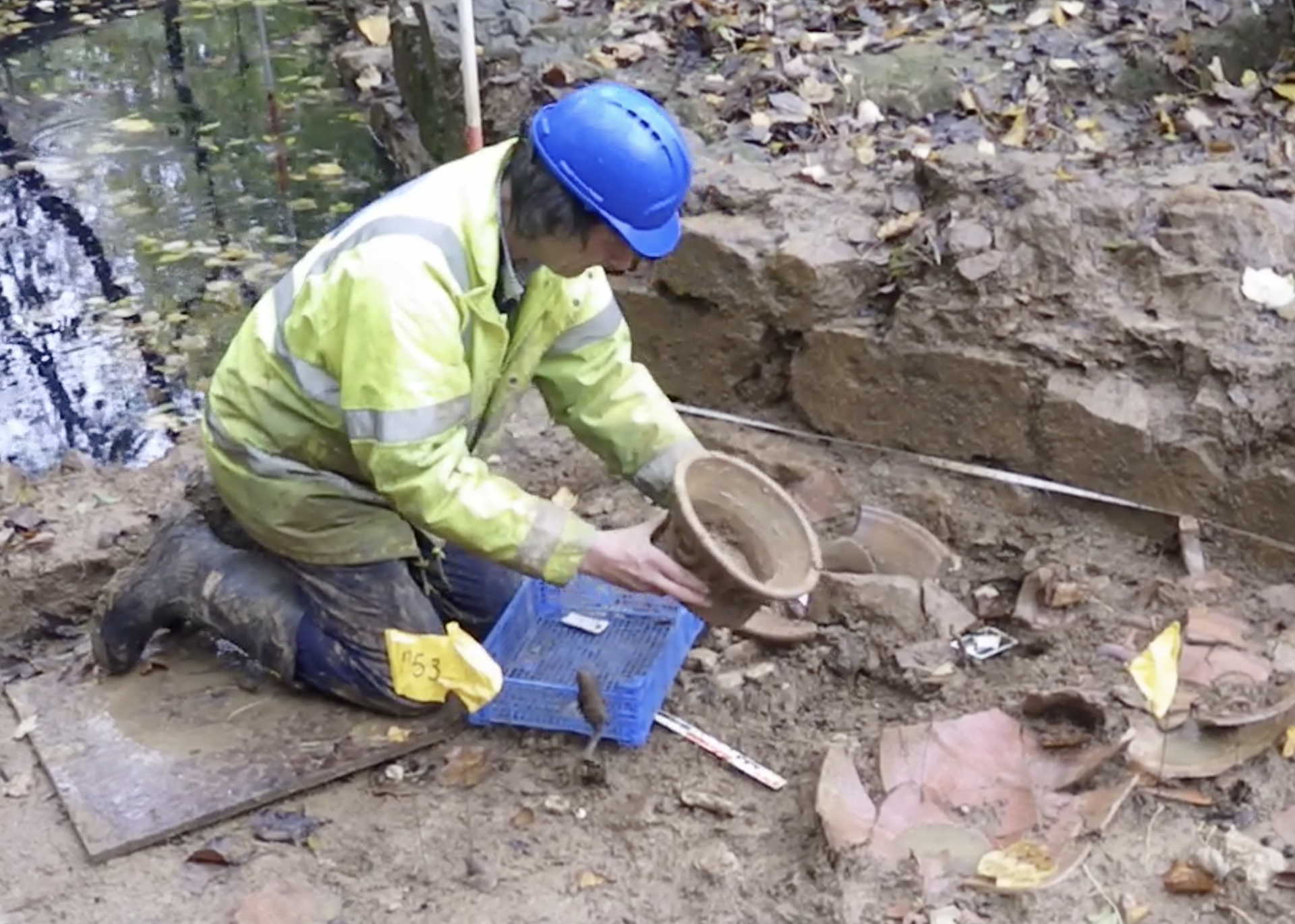 Yes, it was not only complete but intact, after being tossed into the moat nearly 350 years ago. As it happened Rowena, Christopher and a delegation from Banbury Museum were on hand to see it lifted.
(There's a movie of this moment on the
Polyolbion Instagram account
.)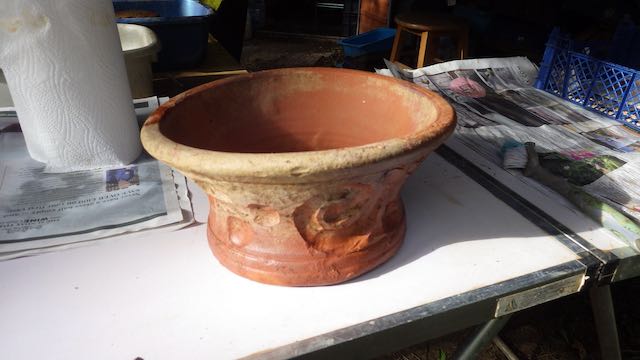 Here it is cleaned up.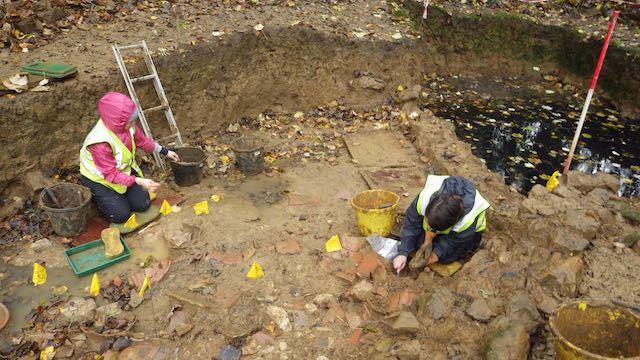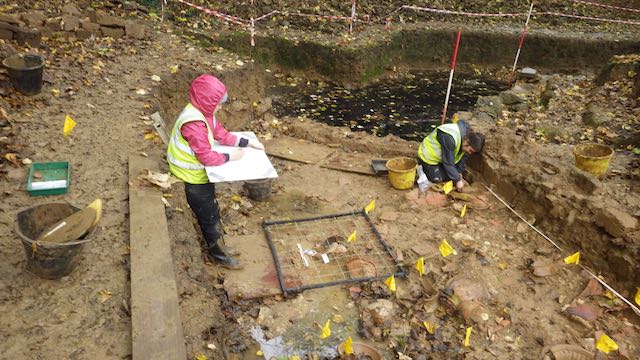 The procedure was pretty standardised by now: clean the pot, plan the pot, photograph the pot and lift the pot. Here are Maria and Pinelopi getting on with it.
There are always new discoveries to be made amongst the documents as well as on the ground, here's the text of an email I sent to Rowena after a late night reading of Plot:


"I must have read and reread Plot umpteen times but just today I came across this extraordinary line that helps give some kind of context to the 'New Atlantis' reference, I think the first time I read it I hadn't realized that Tangley was one of the Cope family properties. Here's the quote with my preamble:
By 1654 they were back at Tangley where their third son and first daughter, who were both to survive infancy but die at the ages of 7 and 15 respectively, were born. In 1658 as part of continuing litigation arising from an unpaid loan from Milton 20 years earlier it was recorded that Sir Anthony, 'has hired the house at Tangley to live in with his family and pays £30 a year rent for it'. One of the most remarkable and tantalising references to Tangley comes in Plot's
Natural History of Oxfordshire
where, in giving an account of stones he termed
Brontiae
, he identifies, '
a Learned Society of

Virtuosi, that, During the late Usurpation lived obscurely at

Tangley
'. (Plot, p. 92)
Who are the members of this learned society and why are they living in obscurity
chez
Sir Anthony?" …, more to follow I'm sure.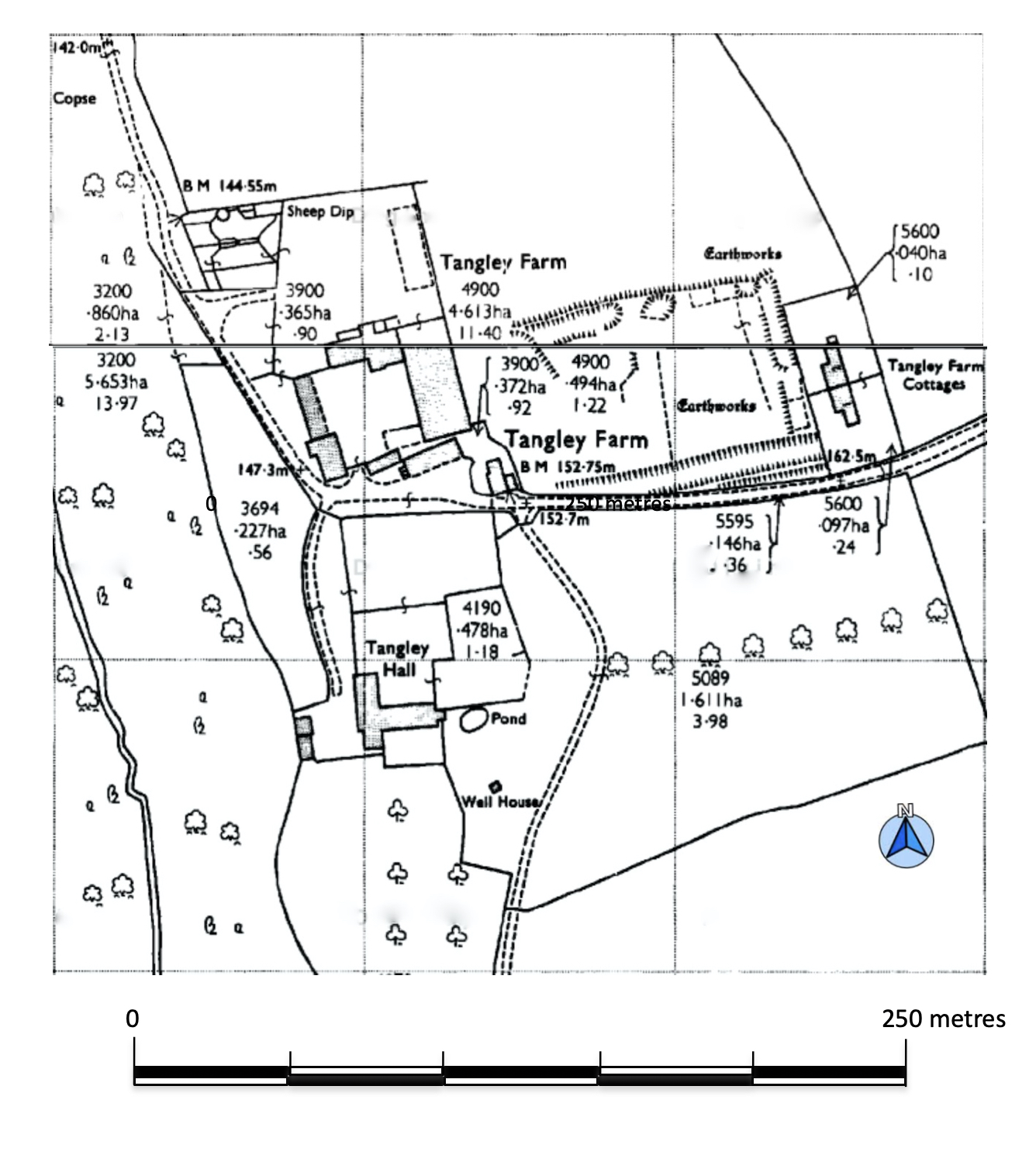 A site of special interest, Tangley with the earthworks of what must be another one of the Cope's gardens.
Another task that had been put off until a reasonably dry day, with lots of helping hands around, was a survey of the overall site plan showing the limits of the excavation and the exact shape of the octagon. With the assistance of Ian, John and Liz this was carried out by off-setting with plenty of tape swinging and the result was so surprising that we checked everything twice and then confirmed the plan with additional measurements across diagonals and around the perimeter. As octagons go this particular polygon was far from being a paragon. In fact it is a real struggle to conjure up a scenario where such incompetence in laying out would be permitted. Of course there could have been some movement on the ground to throw things out a little but... well, take a look: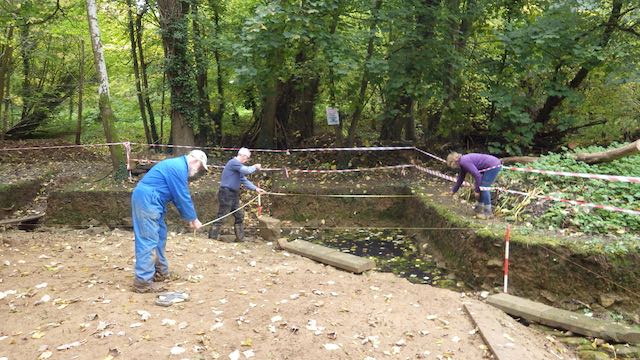 The crack tape crew in action working hard to produce: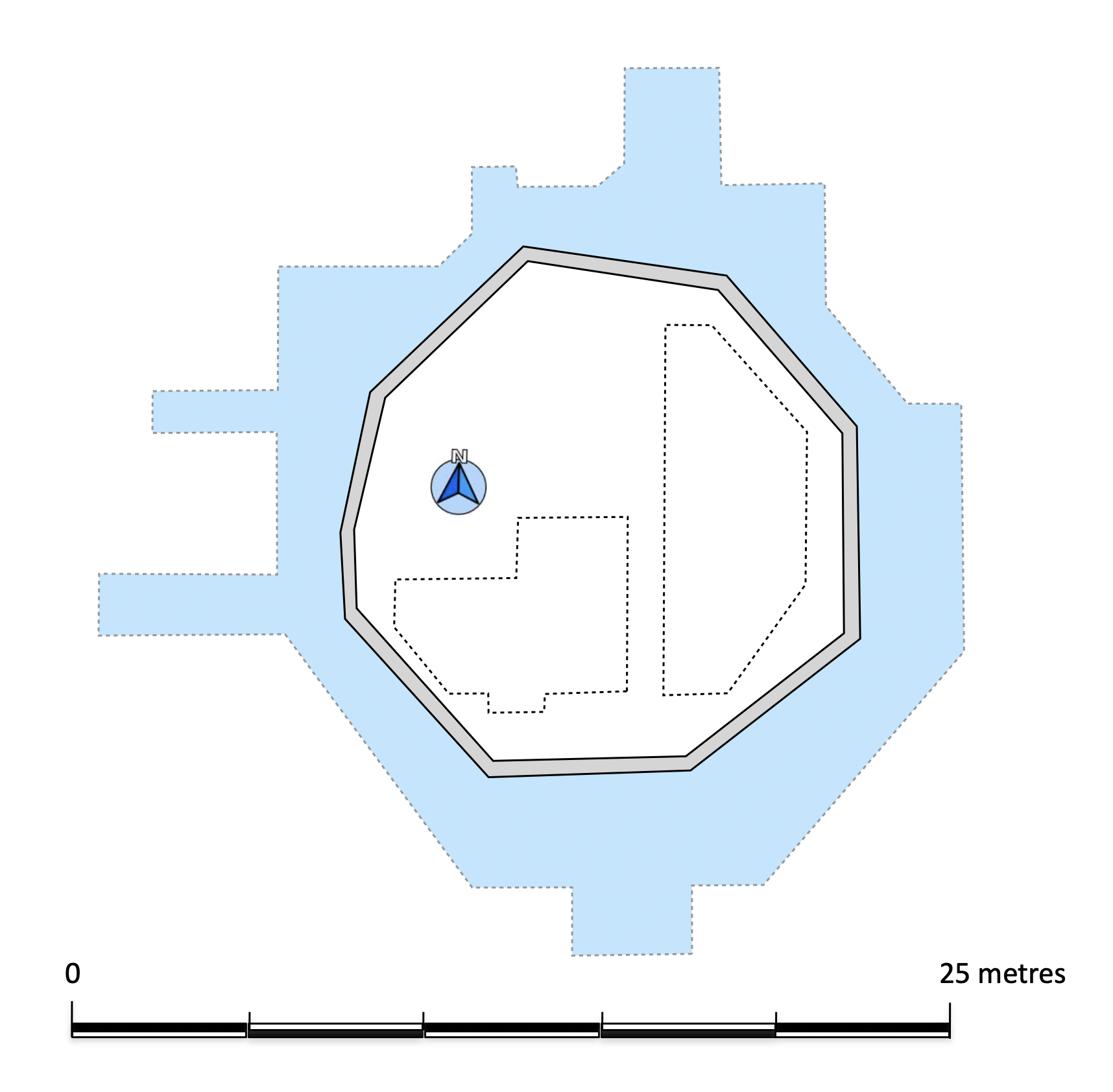 Here's the field drawing and here it is traced up and made clearer, what is going on?
I've been corresponding with a number of specialists on the subject of the Hanwell pots and had a very helpful reply from Maureen Mellor, the doyenne of Oxfordshire pottery, who clued me in on a discovery made during the
2001 Time Team dig at Rycote
where amongst other things they discovered some large fragments of terra-cotta garden urns. To be fair I suspect these are early eighteenth century but interesting nevertheless. I still have to track down the written report for the full details,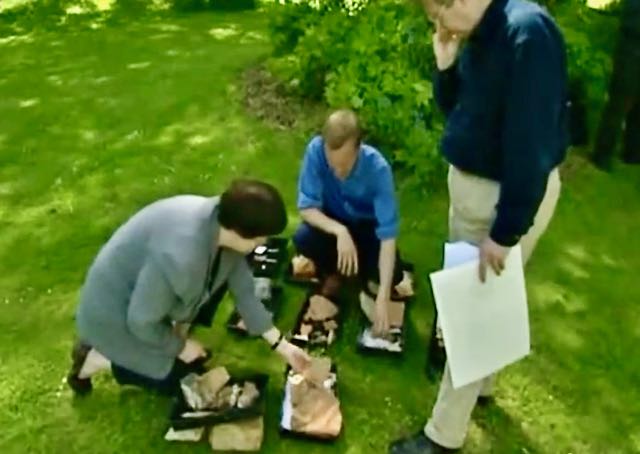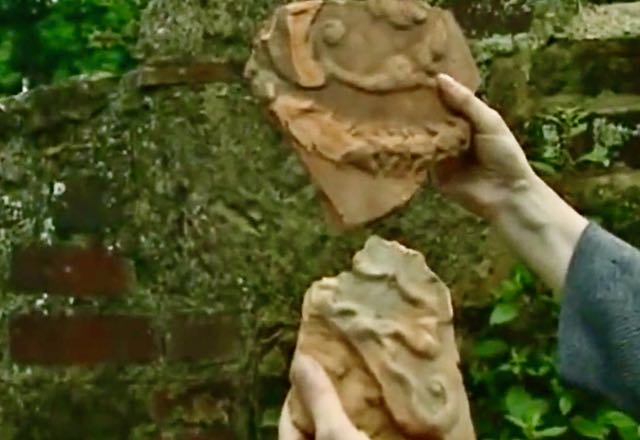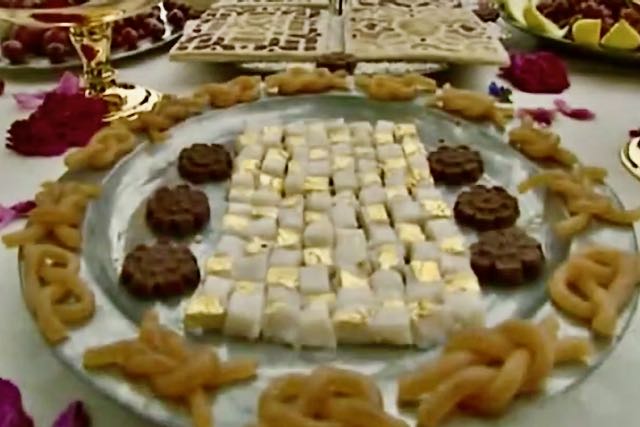 Maureen Mellor, Simon Thurley and David Jacques ponder pots whilst a typical Tudor banquet of sweetmeats was prepared in typical Time Team fashion.
Helping us keep our heads above water we also had digging underway along the line of some early walling to the south east of the main dig. As well as providing us with the opportunity to make an unusual find: a nineteenth-century blue and white transfer printed toothbrush/razor/tooth pick box, we also came across some significant structural details to this wall which as always will take more careful investigation before we attempt to come up with an explanation.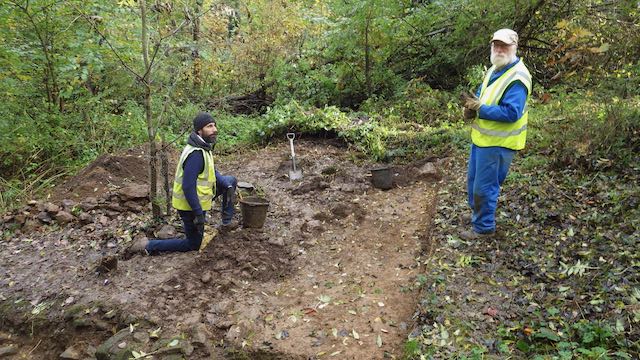 Rupert and Ian charged with uncovering rubble walling.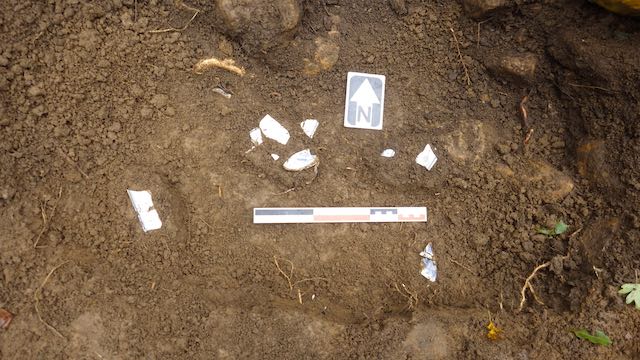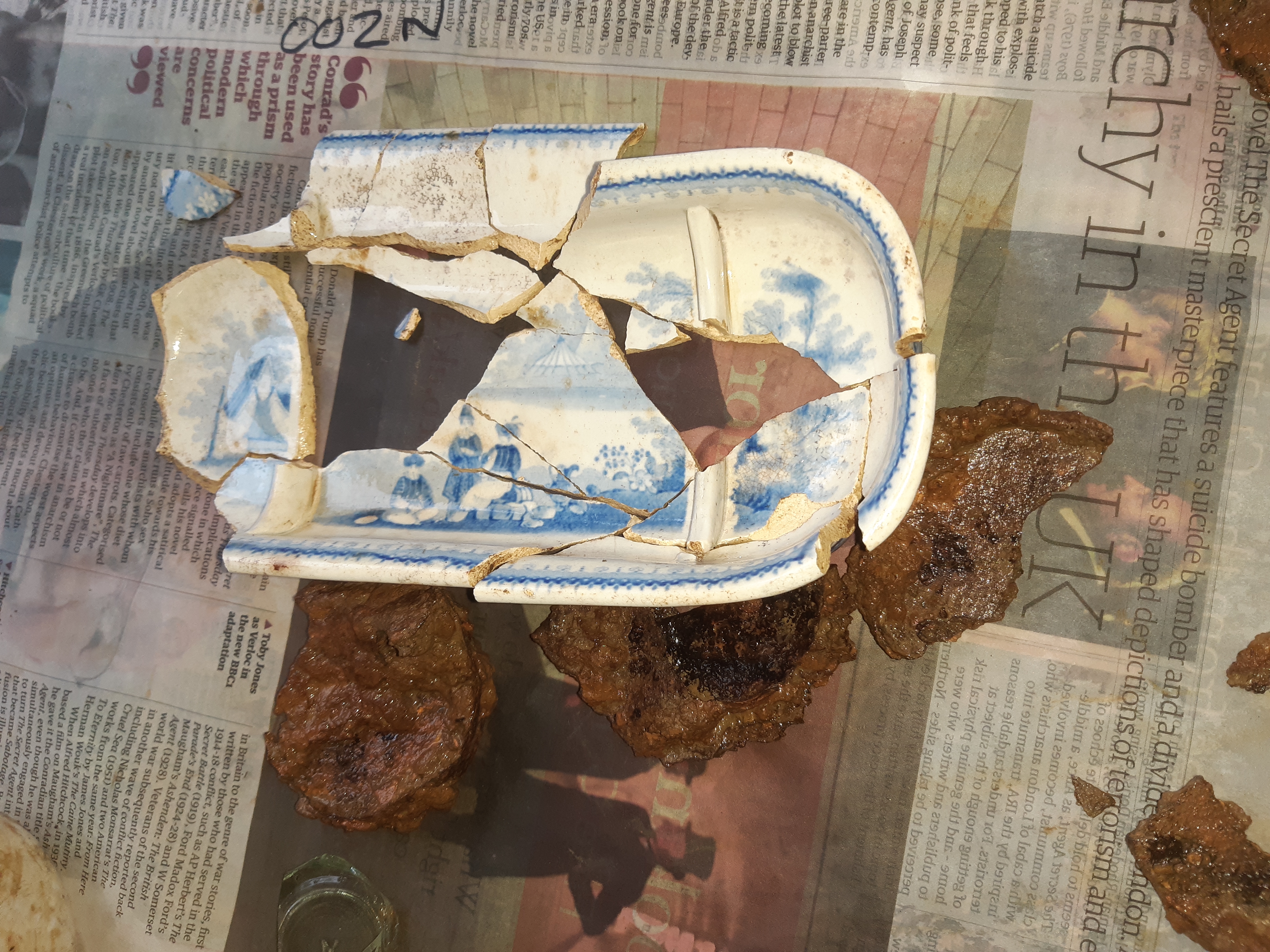 John's excavation of the bits and photo of the whole, well nearly whole (the rest did turn up) box.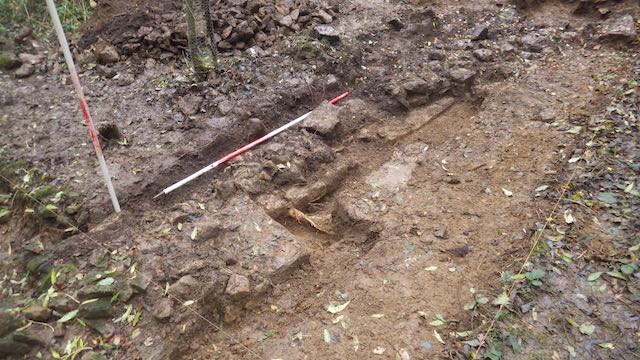 We have corners and we have a variety of different forms of walling to investigate further.
Considering the amount of rain we had during the month we all did extremely well to keep going and do some really great archaeology, however, as October faded into November and the news channels were busy with talk about further lock-downs work on site for the immediate future looked increasingly problematic...