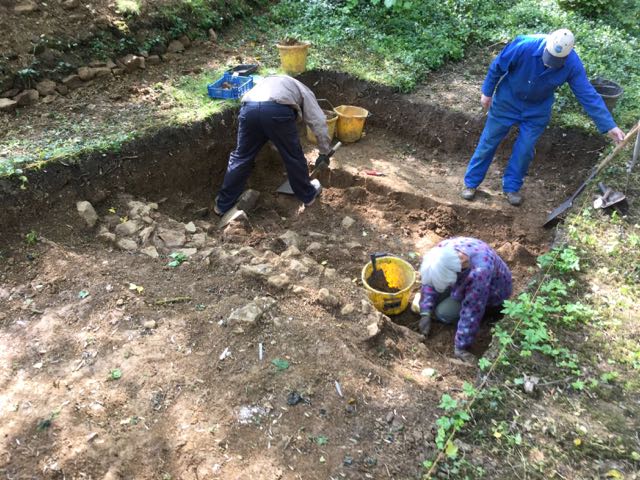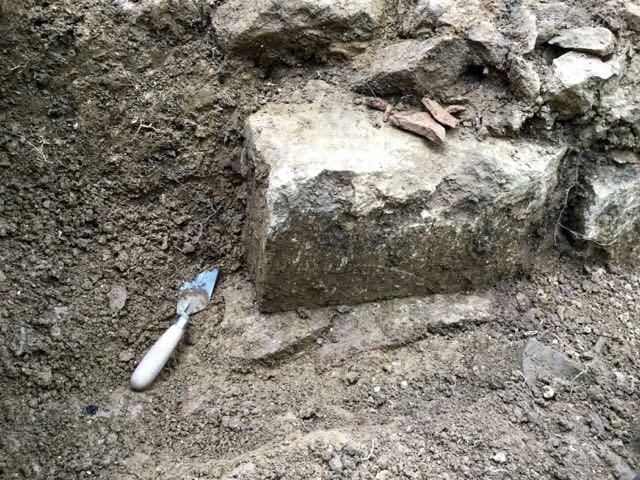 More rubble chasing on the south side revealing more wall, more pots and one puzzling feature... a perimeter wall which appears to stop!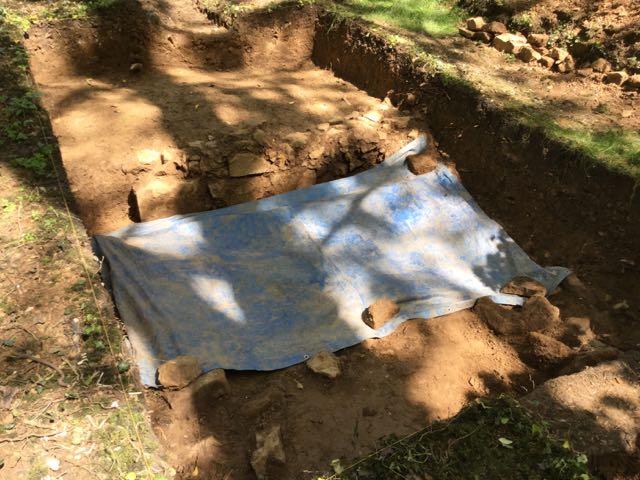 All put to bed for a few weeks whilst I disappear in the direction of.....
CLIVEDEN

Working in the late nineteenth / early twentieth century grounds of the Astor's property on a rather beautiful balustrade, terrace and ramp on a crumbling chalk hillside above the river. Our task was to dissect and analyse its construction .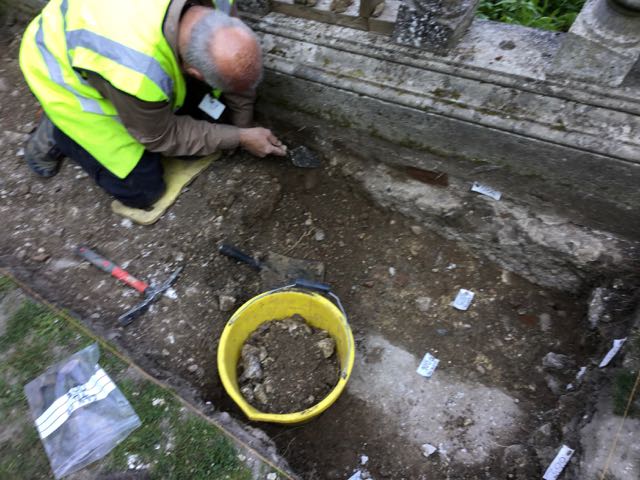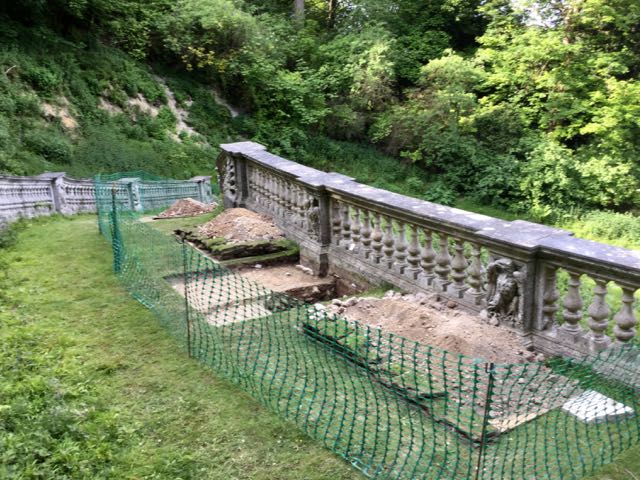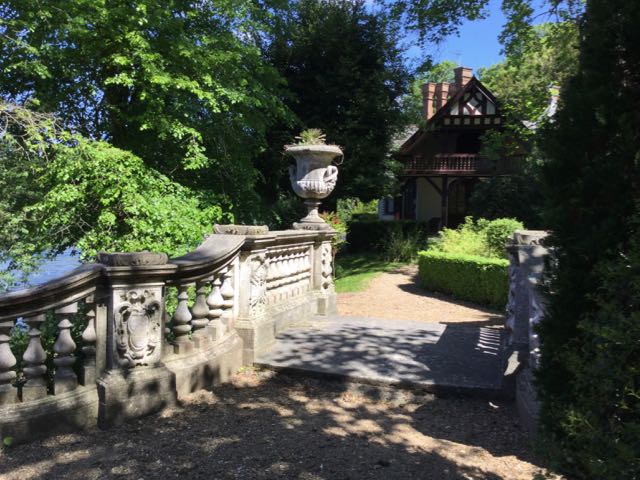 Peter explores the foundations on the ramp whilst above we excavate on the terrace. Down below more balustrading in the grounds of Spring Cottage a location for events in the notorious Profumo affair.
BURTON DASSETT
And the following week the 40m trench through the churchyard. After our work at Cropredy and Wormleighton we knew there was a fair likelihood of us encountering burials. I never imagined that we would see our first just 30cm below the turf line. We also examined a curious fragment of walling which looked for all the world like the curve of a small apse! All pretty tricky in a trench not much more than 30cm wide.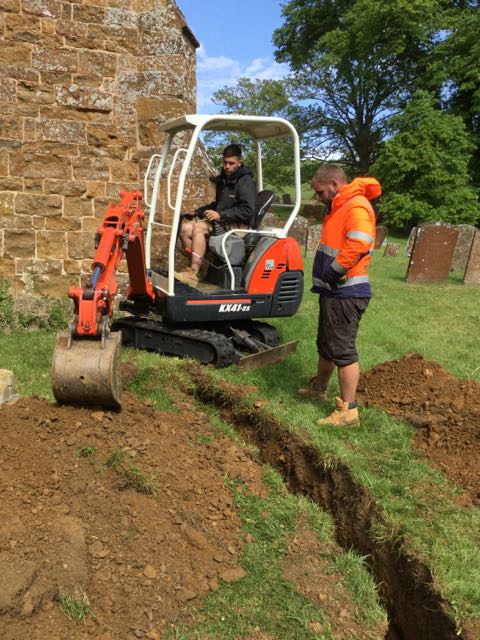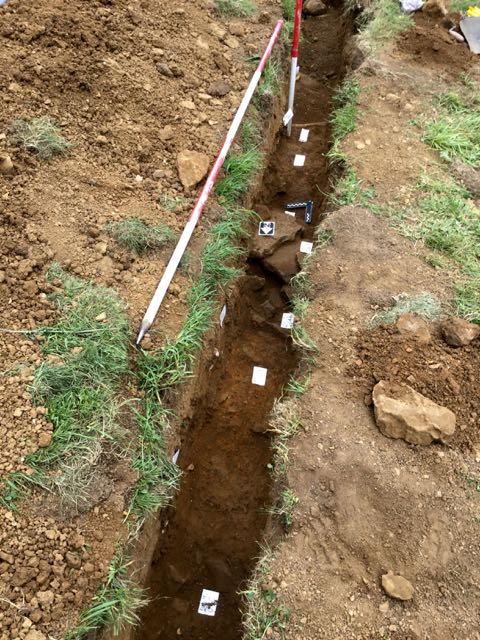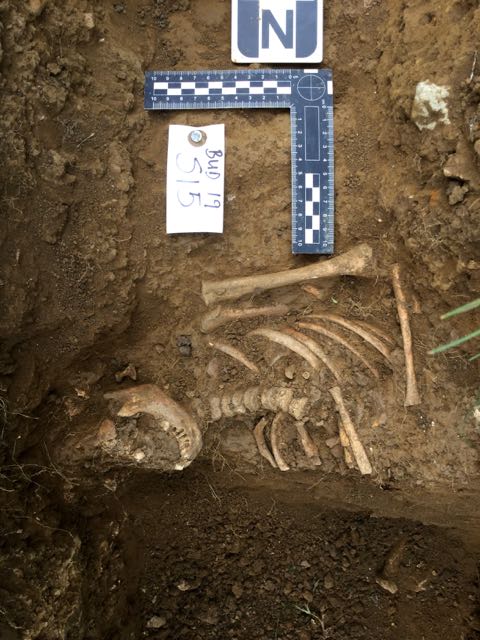 Sam, Tim and the mini-digger approach the the south aisle. The main trench and walling looking south. Our shallowest burial, a juvenile just over 30cm down.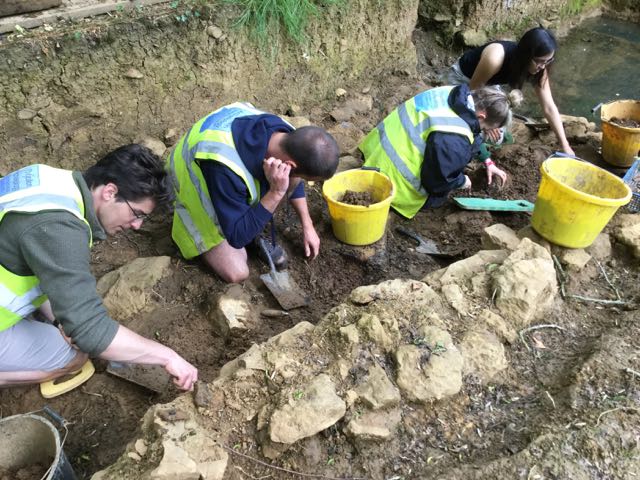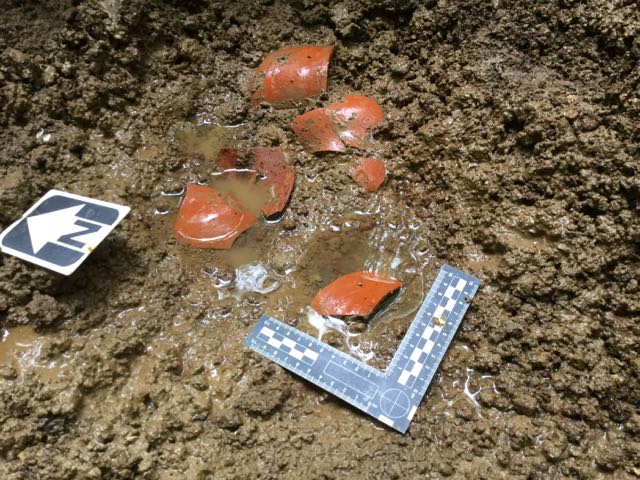 Back at Hanwell Oliver, Andrew, Kendra and, making a welcome return, Hannah work on a layer with consistency of Christmas pudding mix, nevertheless we found the coper alloy finial and this fine earthenware bottle.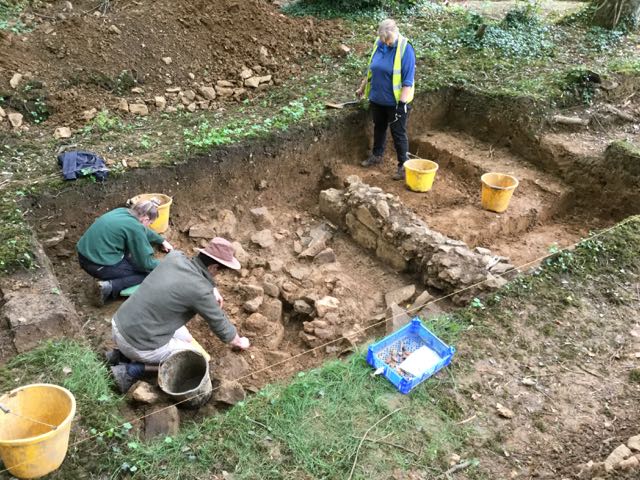 The next day we left the old trench to dry out a little more and Gina joined us unraveling the mysteries of the wall.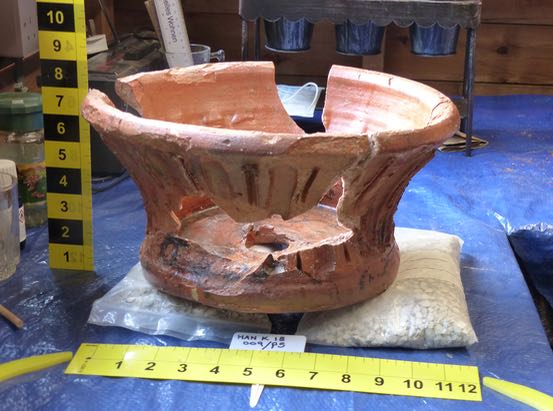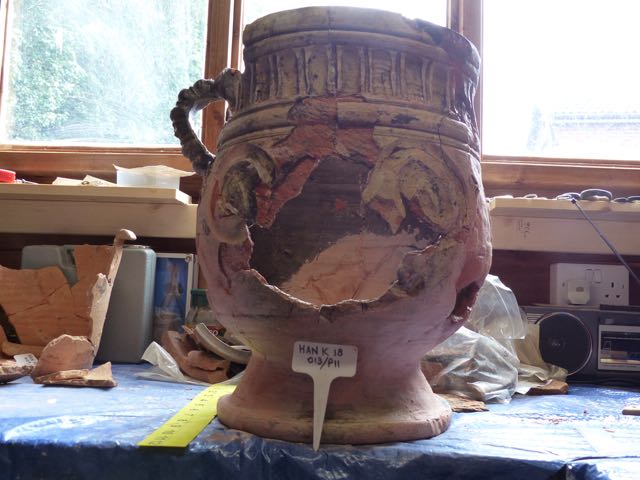 Meanwhile in a secret location in Banbury Peter S. continues to work his magic on another batch of pots.
The middle of June was notoriously wet, we managed to squeeze a little digging in but mainly it was just watching the waters rise.... and I had planned to pump it all dry, vain hope.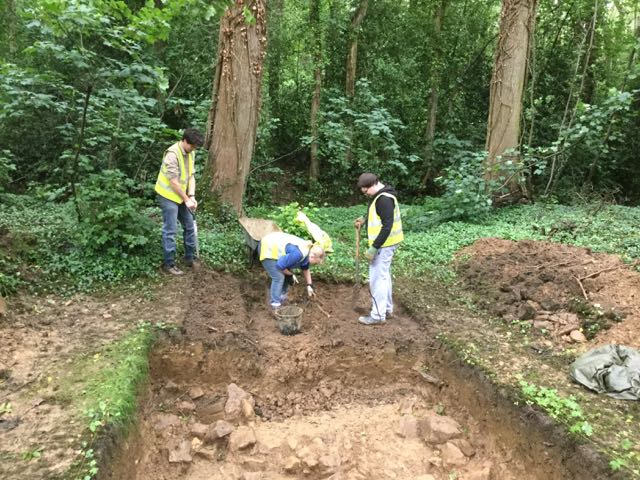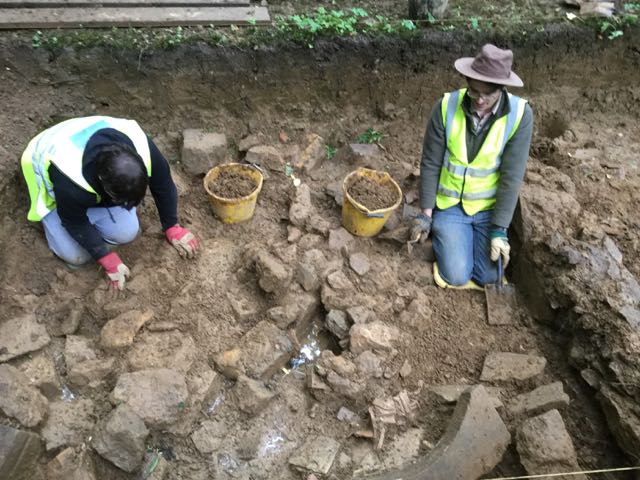 Oliver, Gina and Matt carry on stripping turf and shifting subsoil before spending a little time on their knees scraping mud off rubble.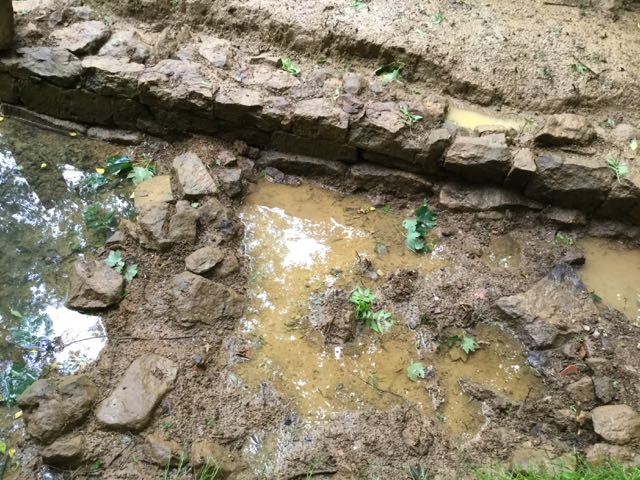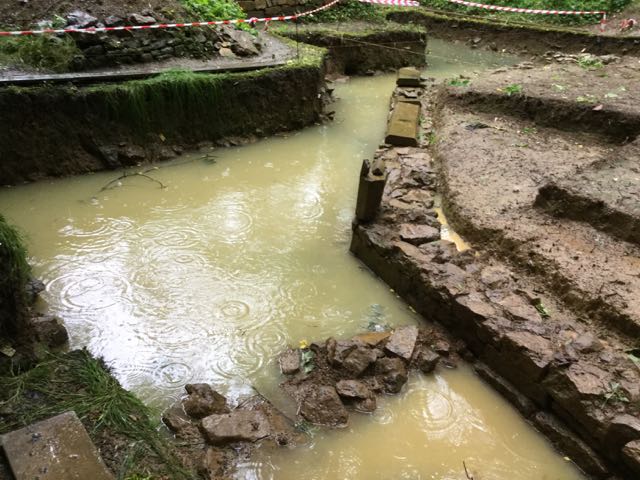 Here's the scene on the west side of the site on Wednesday June 12th. and here it is again 24 hours later.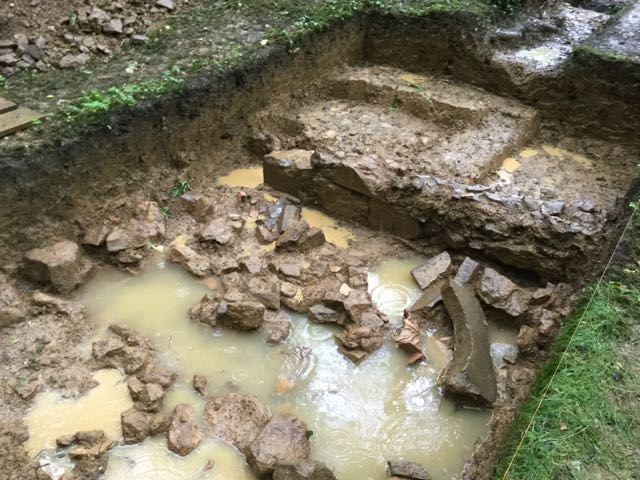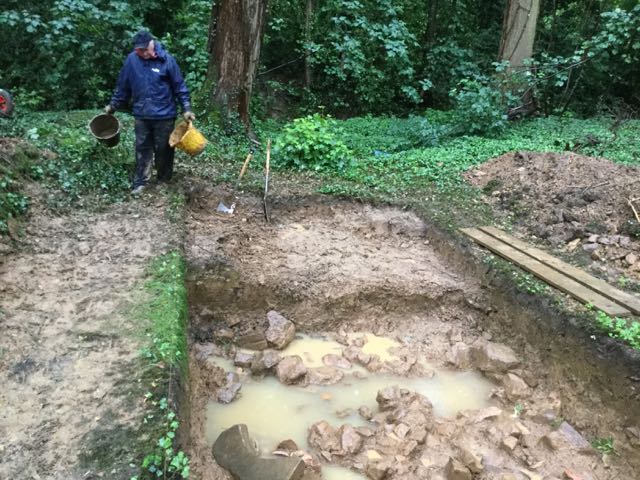 Even the trench on the south side started to flood, Peter about to give up... it's just getting too slippy to be safe.