Voyages to the House of Diversion
Seventeenth-Century Water Gardens and the Birth of Modern Science

March 2018 - Opening it up even further

Once the snow had melted it was time to return to what was a rather soggy site and plan the next stage of work. The spread of destruction material already revealed along the north edge of the circular mound suggested that there was plenty more to be uncovered and more that can be seen at once the greater then likelihood that we would make sense of it all, Accordingly the existing trench to the north was extended by a further metre, an area of 20 square metres to the west was marked out with the intention of picking up any in-coming water supply for fountains and what have you and a metre wide trench was projected to the south to give a section right through the central area and up to the bank beyond. Unfortunately this meant, as it often does, moving part of a spoil heap and plenty of de-turfing, not that most of it was what you could really describe as turf.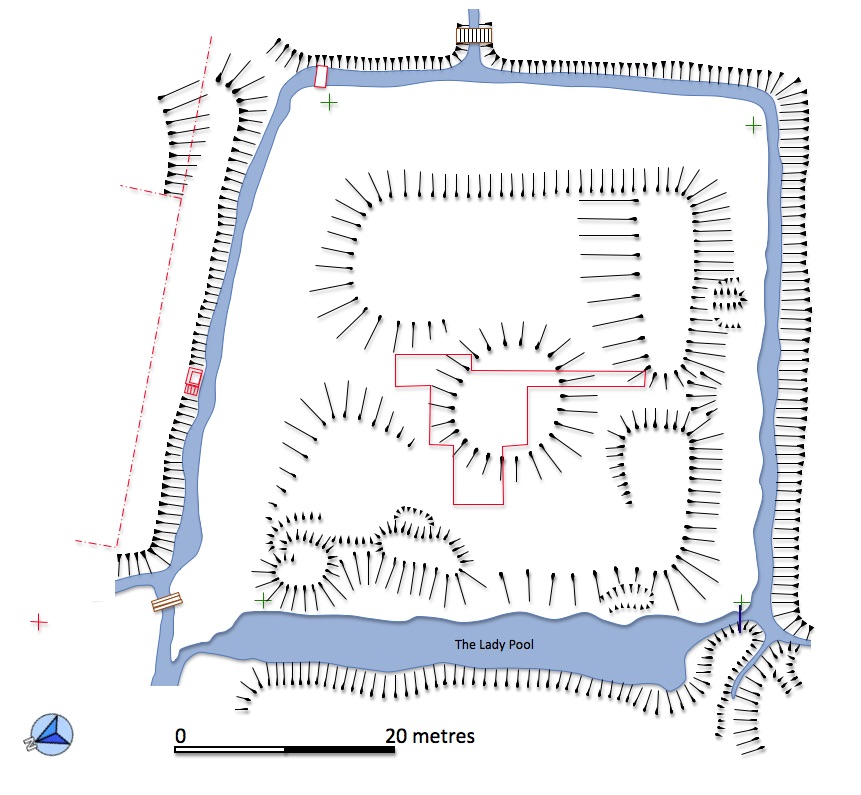 the plan of the water parterre originally surveyed in 2014 with the current excavation outlined in red.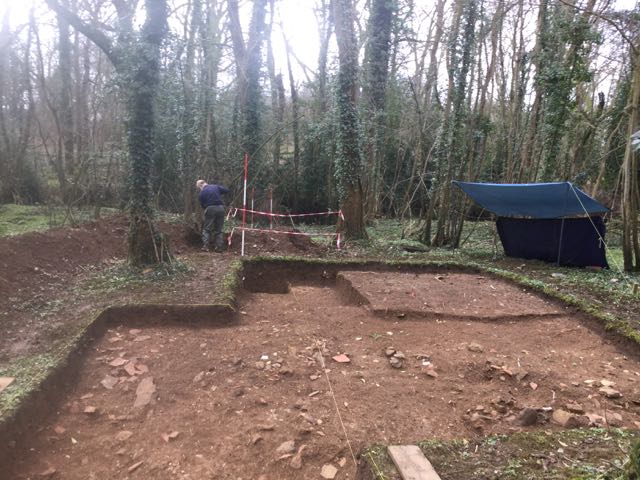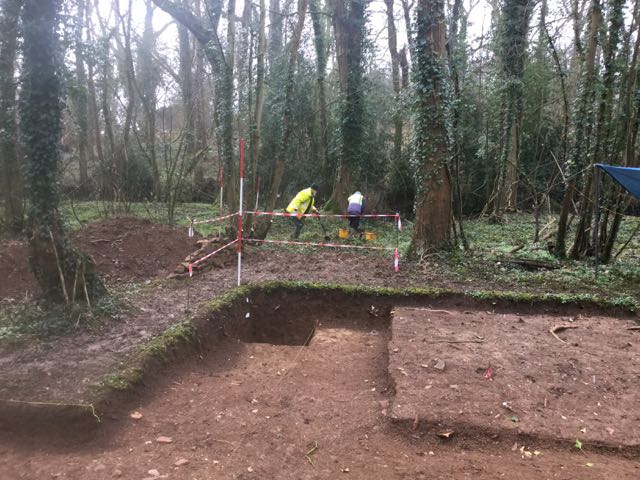 Ian sets to to shift some spoil and later in the week Peter and Ian lend a hand to remove turf and topsoil.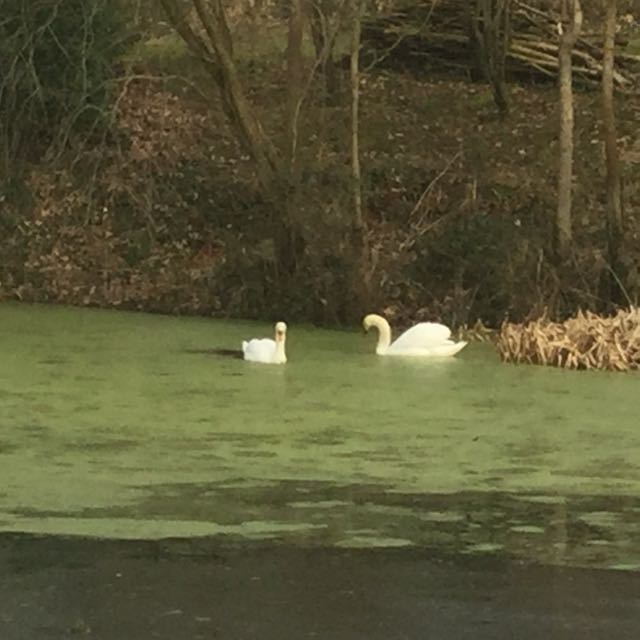 Plus in the first week of March: the lonely swan, lonely no more.
Unfortunately we had another wet weekend so when we returned to the site the lower portion of the dig was awash and everything was sticky. We were able to remove some topsoil by periodically scraping the mud off on the side of the barrow, not ideal digging conditions. However, on Friday the sun shone pretty well all day so we were able to to shift the trays and boxes of finds out from the corner where they had been sheltering and start to fell trees and prune branches ready to begin levelling the site for the concrete slabs which will form the base of the new finds sheds.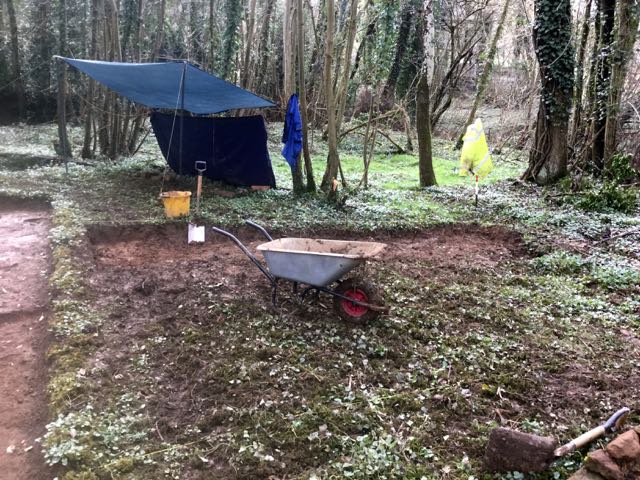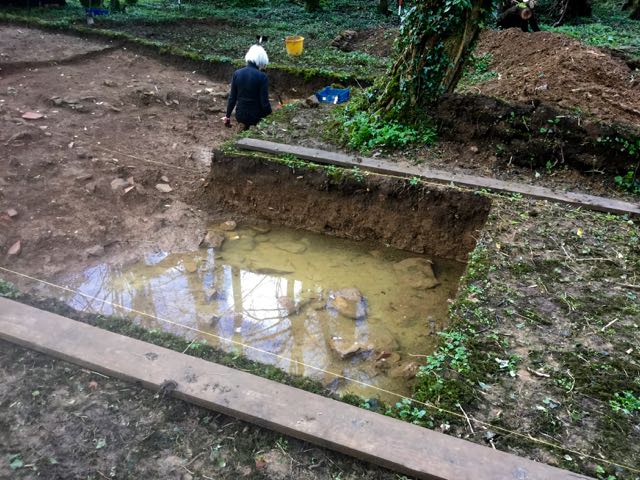 Up on the central island it's pretty wet but the ditch section is only fit for ducks.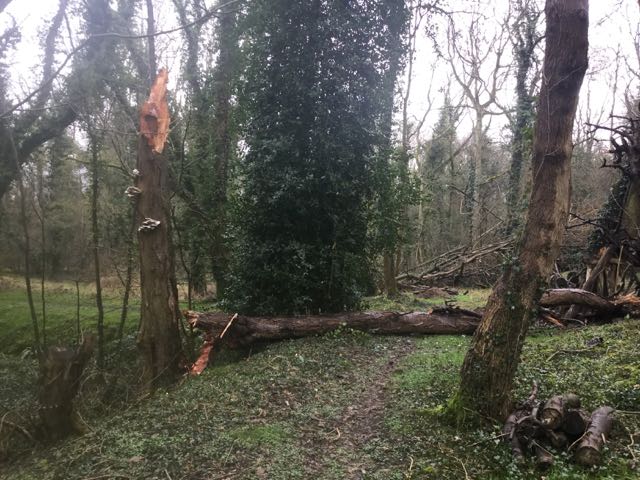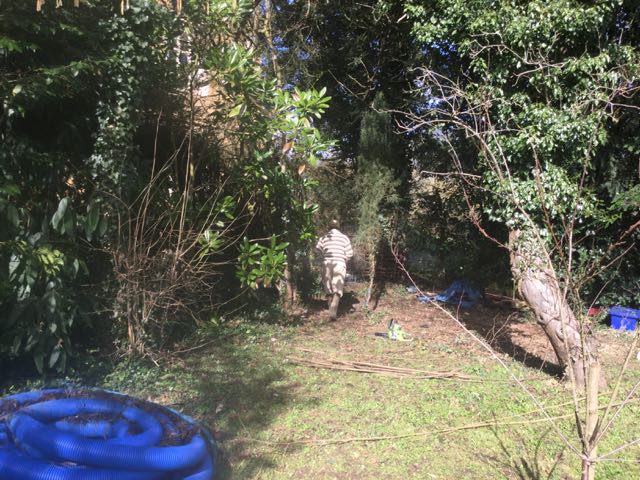 More windy weather brought down the remains of another tree, you can see why we don't like to linger once the wind gets up, never mind, the sun shone whilst we got cracking on the shed site.