Strictly speaking this next phase of the work began at the very end of July but I've lumped it all together to tell a coherent, well nearly coherent, story. We had seen some rain so when we recommenced the low level silts on the north side of the octagon, which still need some unraveling, were under water so it seemed like the right time to return to the western extension which we suspected held the north west side of the octagon. After excavating a series of dumps and slumps of tile and plaster, plus some window leads, we came down onto the rather fragile upper course of the retaining wall and established its position along its entire length plus a new corner. This in turn confirmed that we are likely to be dealing with a regular octagon and helped us fix the position of the centre. Careful examination of this spot suggested the presence of a small central pit possibly the location of the up-coming feed pipe for a fountain. Unfortunately this also tends to confirm an earlier hypothesis that the level of the central island had been considerably reduced thus removing all traces of structural elements, what a shame. However, there was still the rubble field to examine for further clues about these structures but first it all had to be cleaned and recorded. In the course of this we recovered an entire skeleton of a medium sized dog sadly cast down in to the moat during the demolition process so it lay on top of one of the coping stones which had also been pitched or possibly placed in the mire.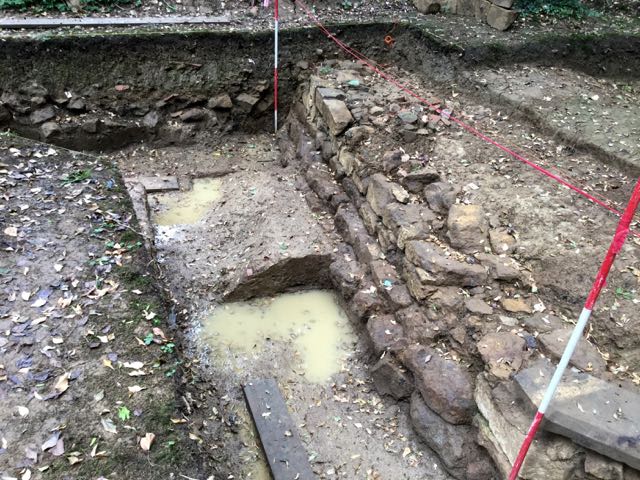 The aftermath of a wet weekend.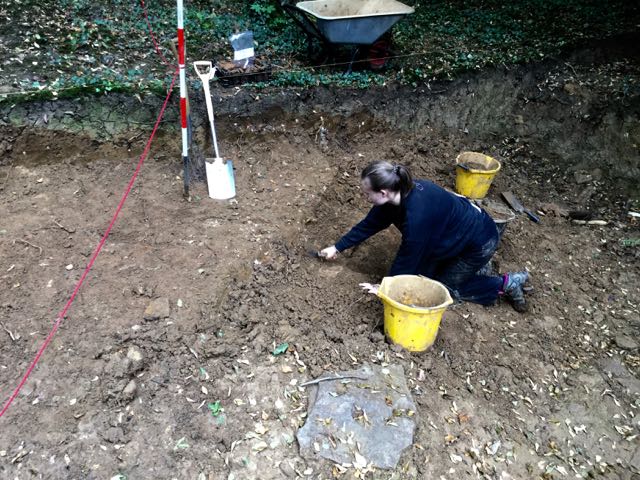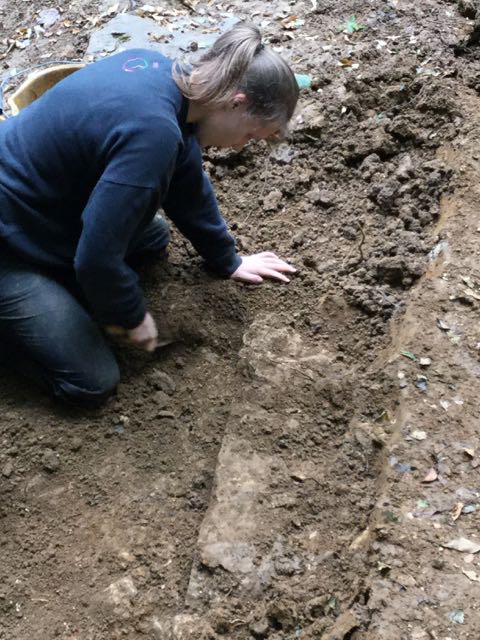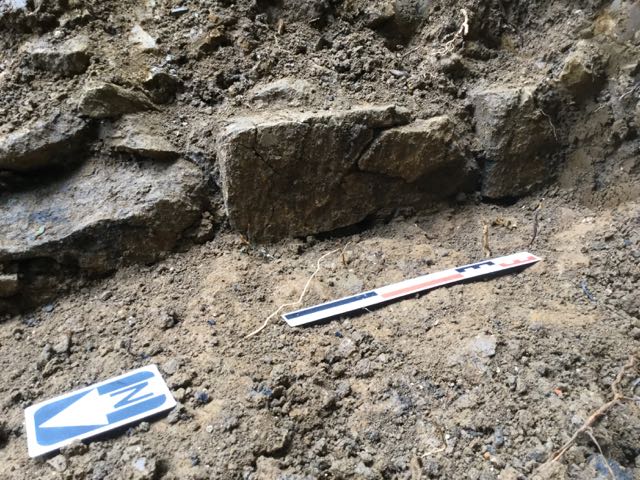 So, it's on to the north west side. Sarah ploughs a lonely furrow but is rewarded with the first sight of the new wall which turns out to be very fragile in places.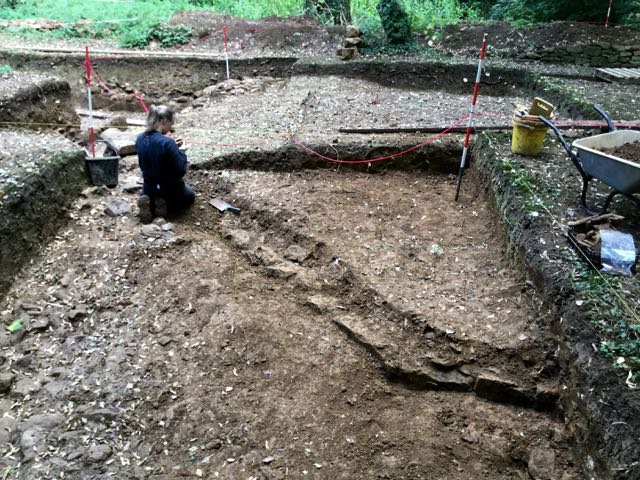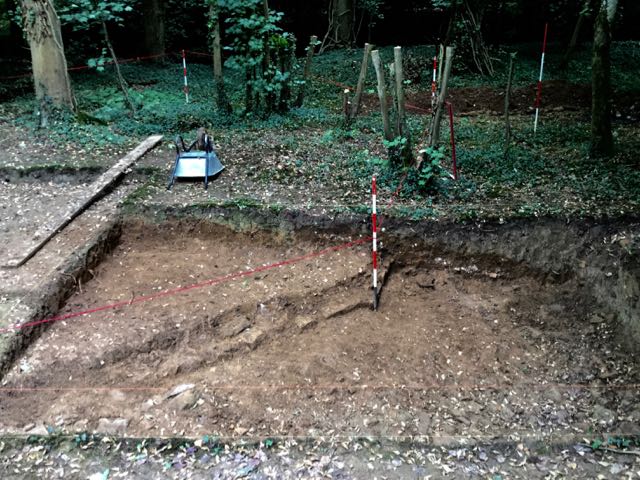 The end of a days work, a new side and a new corner which enables us to ...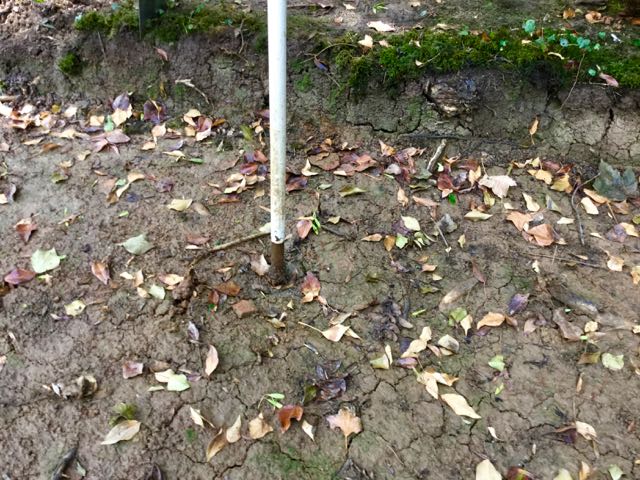 ... fix the location of the centre where a small dark circular depression can be seen, the site of a pipe?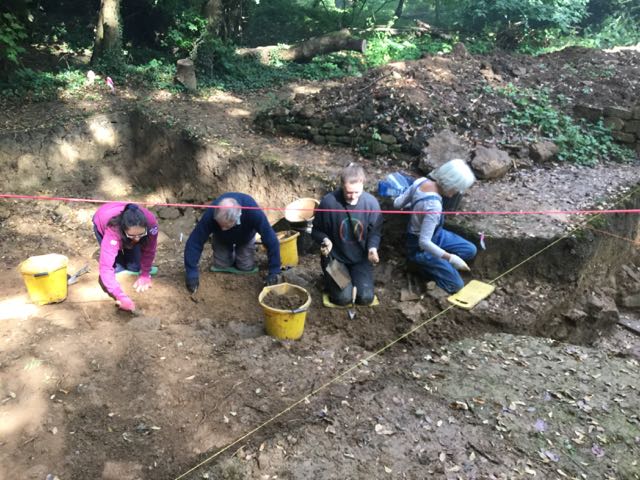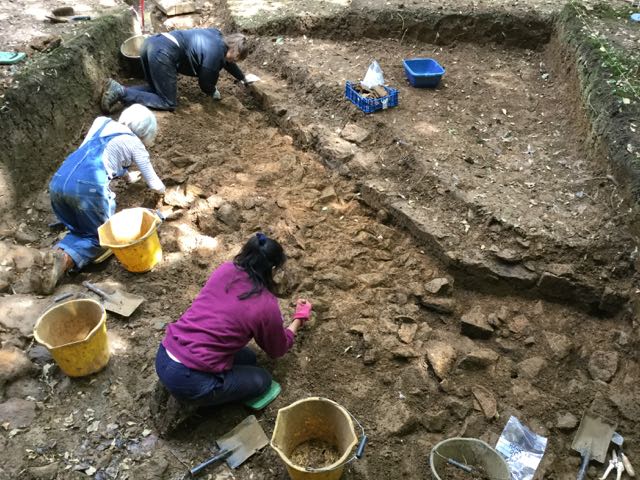 Fortunately when it came to exposing the spread of destruction rubble we were mob handed and the work, if not easy, at least went with a swing.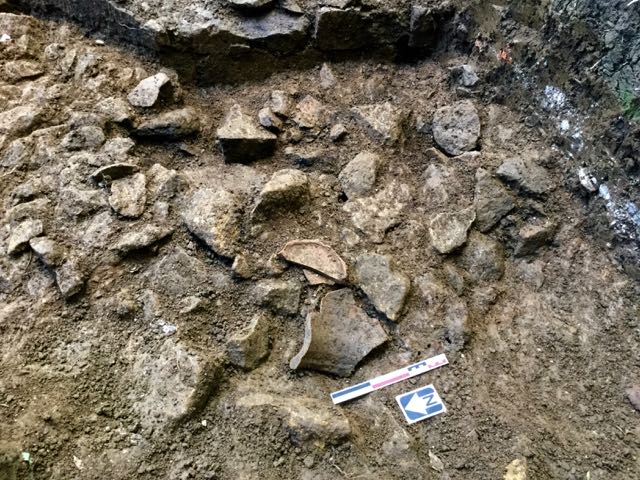 More 'big pot' fragments were excavated but above the rubble spread so no complete vessels at this stage.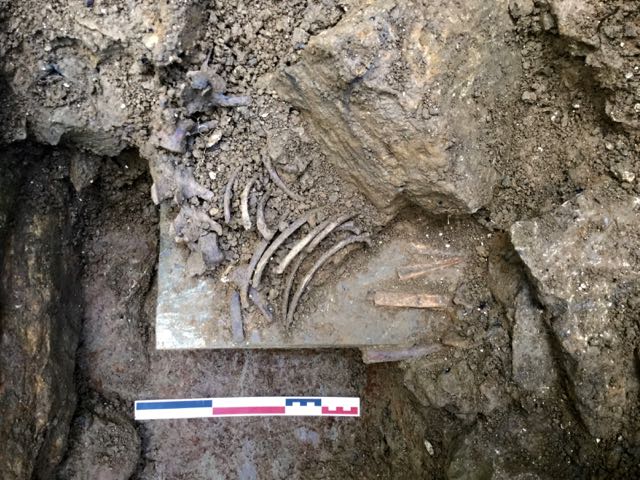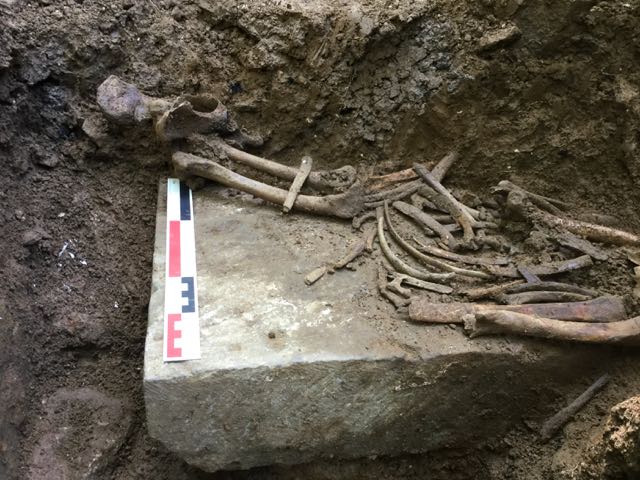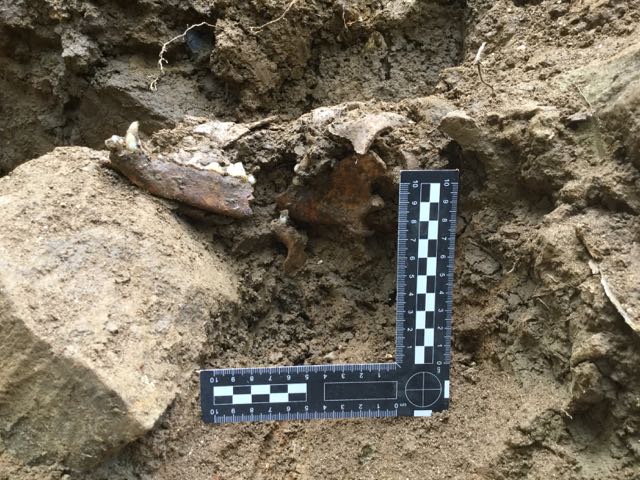 And so to the Hanwell canine, lying (or laid?) on what seems to be a carefully positioned coping stone and now fully excavated, recorded and ready for cleaning and expert analysis.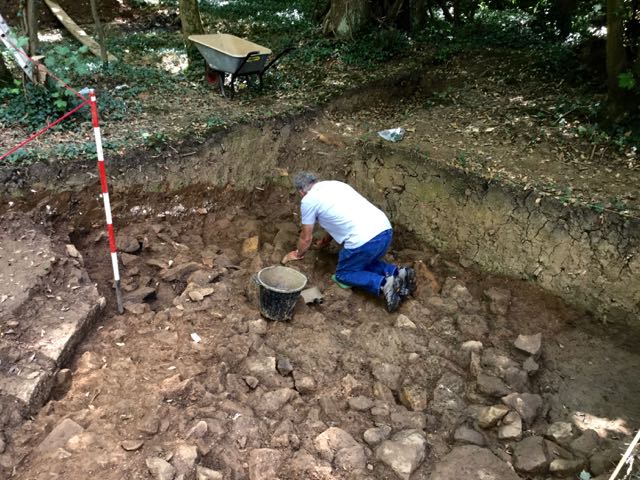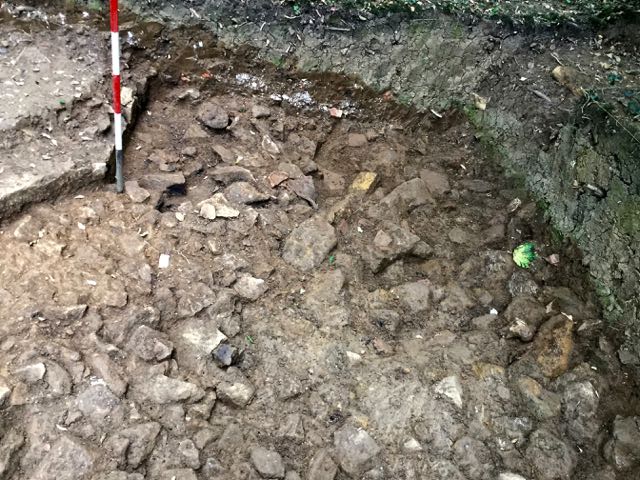 A special treat on Friday, a visit from Bill Cope, yes those Copes, who came and found time in his busy schedule to wash pots and polish rubble. Here it is at the end of the day ready for drawing, sigh.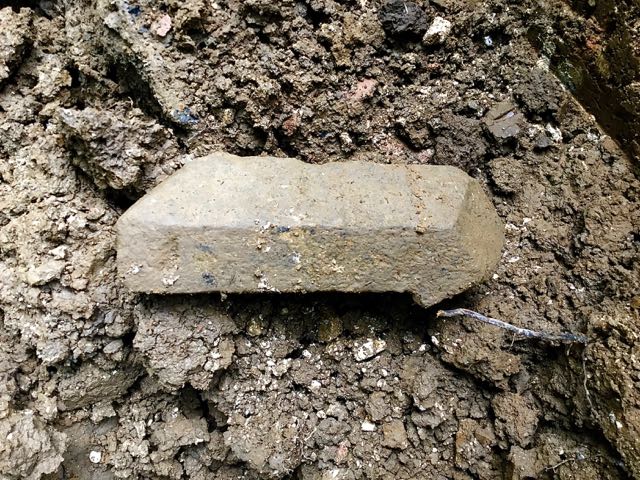 One interesting piece that came up was this fragment of worked stone with so many faces and angles that it's really hard to figure out what it was part of.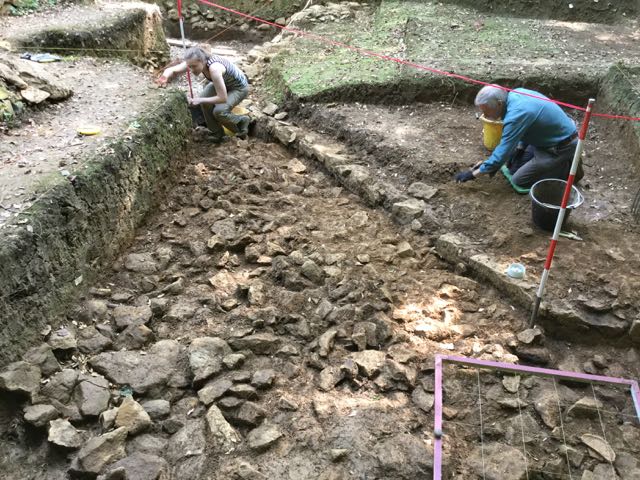 Final stages of wall/rubble cleaning underway with drawing of all those stones well advanced.
Work was curtailed as we moved into the second week of August partly because of preparations for
Fairport's Cropredy Convention
then some commercial work for the National Trust at Chastleton and taking us through to the end of the month, a ten day
community dig at Chacombe
however, we did squeeze in a couple of days to give a taste of the Hanwell experience to volunteers from the USA and Australia! Having made a start on clearing the rubble field we rapidly found ourselves coming up with four new pots and some quality coping stones.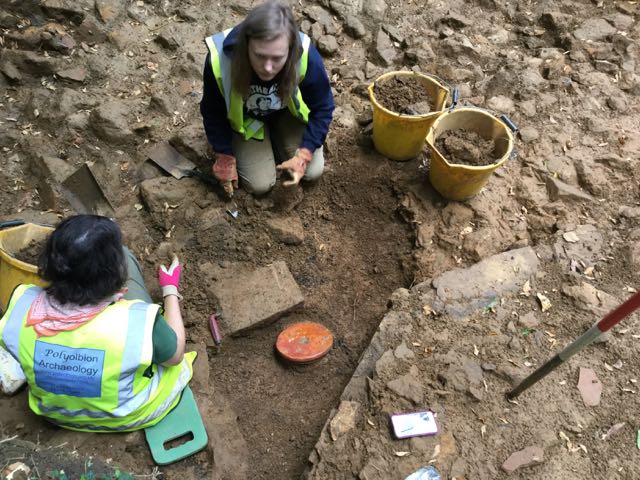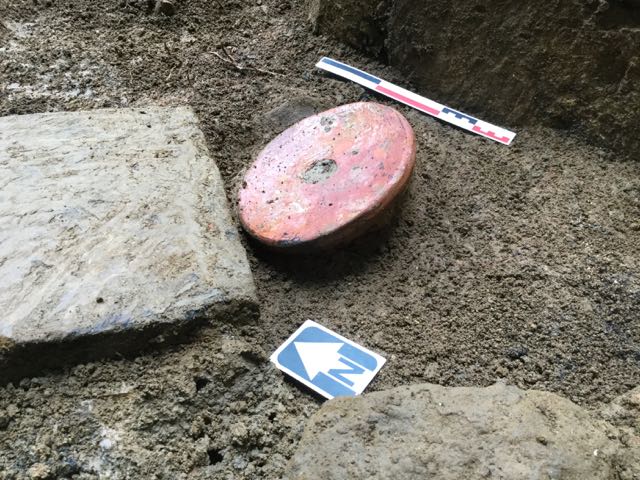 A pot base and a corner block under excavation, and here they are close up.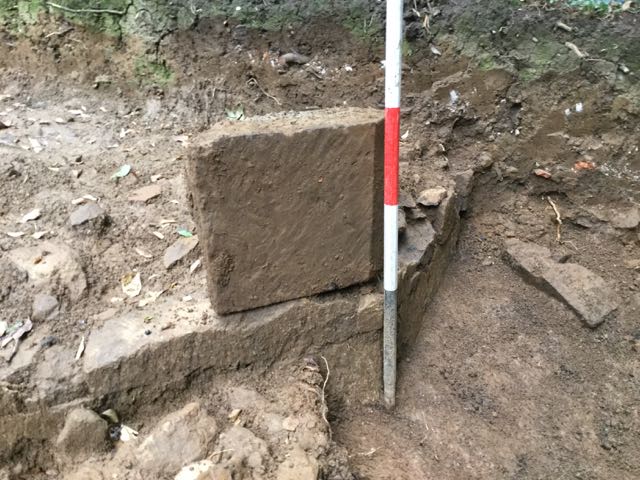 Another example of... remember the word? I hadn't, 'anastylosis'.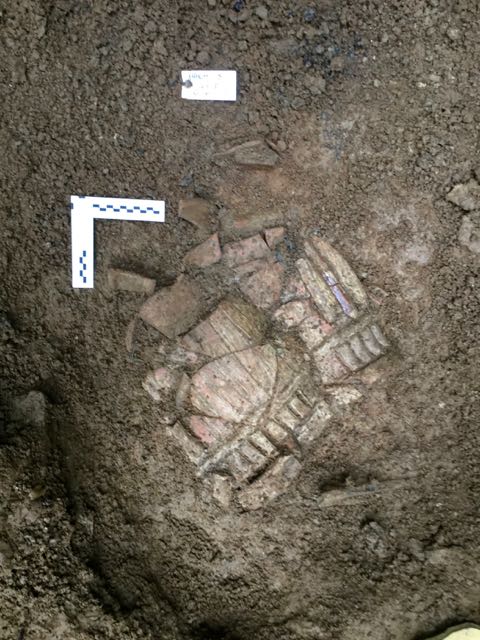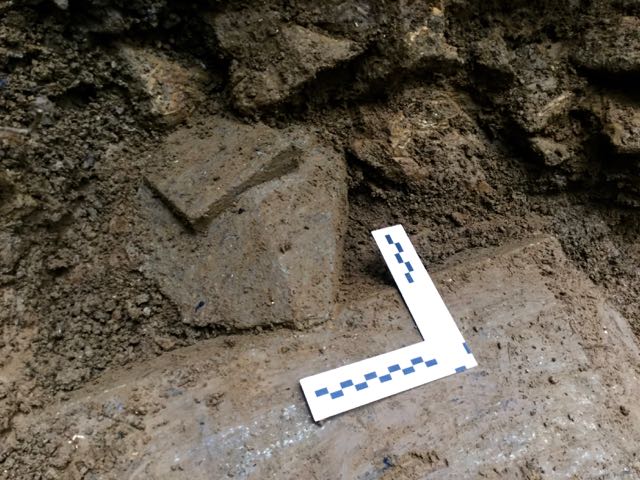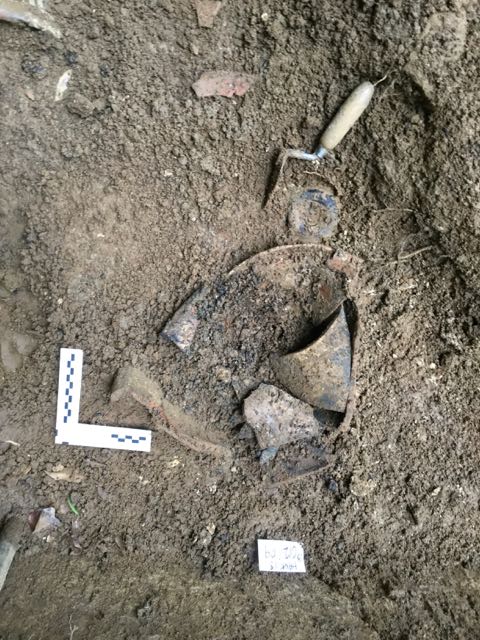 Here to admire: a pot, coping and capping stones and... another pot.