Our quest map, based on the estate survey made in 1772.
The morning of the walk was slightly misty with dampness in the air all of which help establish an atmosphere. They walked down from the car park by Sourland Pool and were greeted by a mysterious looking figure lurking - its the only word for it- in a corner of an adjacent field. To their credit they stood their ground as the figure approached and were not a bit surprised to discover it was me. We then had a briefing which encouraged them all to enter in to the experience of the walk imaginatively by adopting a character and viewing what came next as a sort of quest. What kind of a story would they be able to make up using the sights, sounds and experiences of the walk? then it was into groups and away, following the black clad figure. Were they being led to safety or into a trap? They had to decide.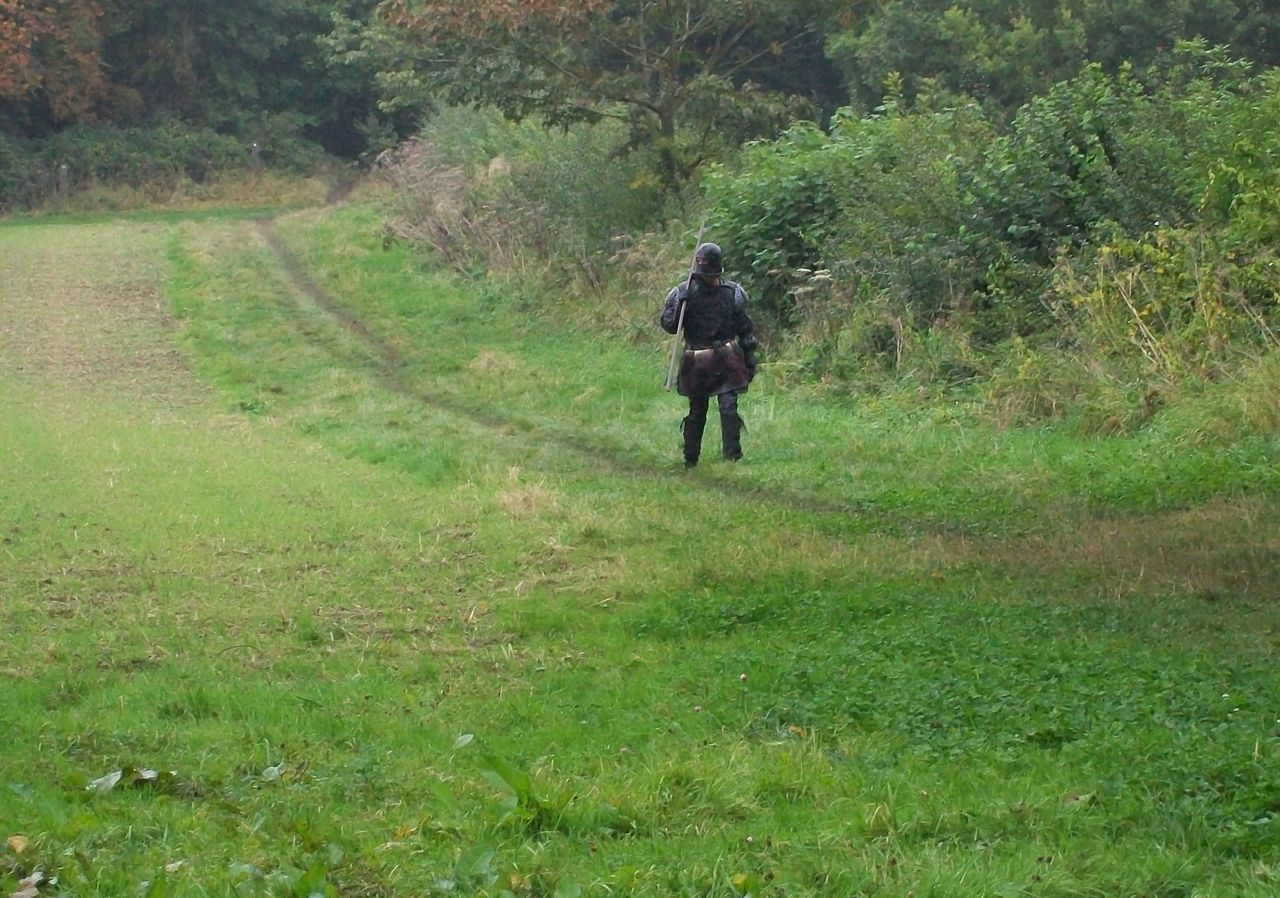 A stranger approaches - friend or foe?
A number of instructions were issued in role:
Keep spread out in case of ambush - in fact loads of adults came along so the children were able to operate in small groups.
Keep your voices down, you never know who may be listening - we wanted conversation but not racket,
Keep moving, it's dangerous to hang about - we had lots of ground to cover and didn't want the party to become too strung out.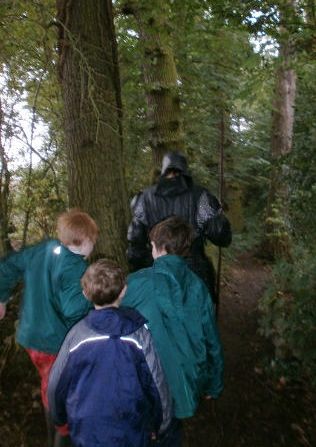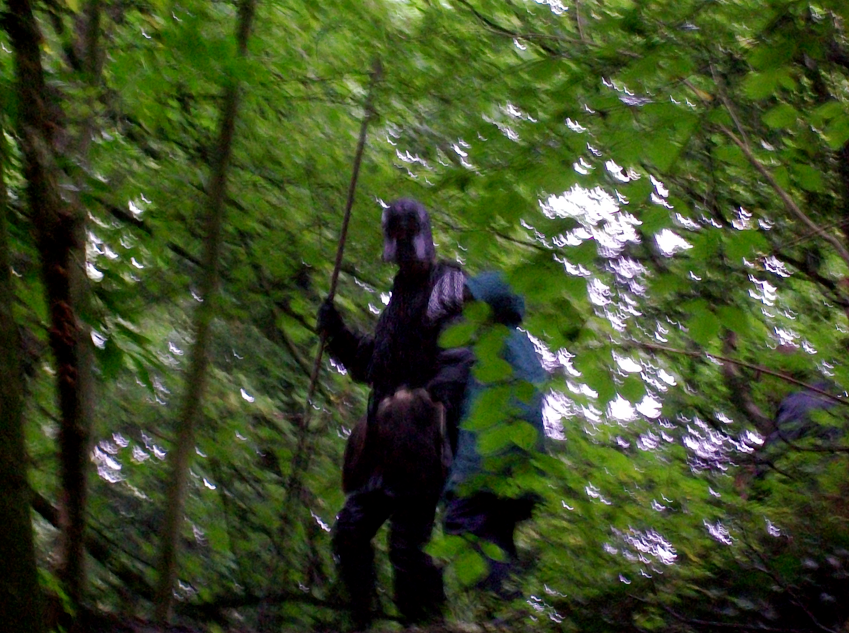 The trek begins, where is he leading us? The guide is snapped leading a mysterious blue cloaked figure - could it be a dwarf - down towards... the face!
Particular features which caught people's attention were the waterfall, various twisted trees and especially assorted drains and hollows which could be interpreted as hidey holes for goodness knows what. During the later part of the walk the fact that we had to divert around a fallen tree and struggle through a very boggy bit of path which the children identified as a trap all added to the drama. Finally we arrived at the amphitheatre, an enigmatic landscape feature of the eighteenth century - probably. here they were able to make use of the ample brushwood cleared during last year's work on the site and within a matter of minutes an instant village sprung up.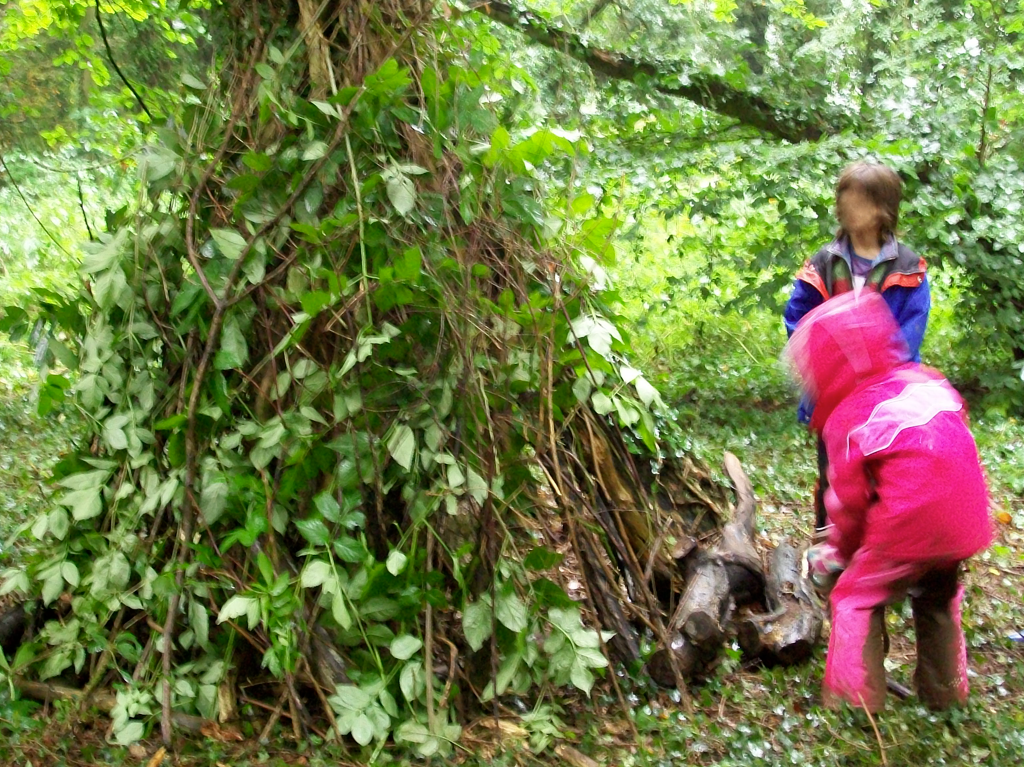 Building a den in the amphitheatre.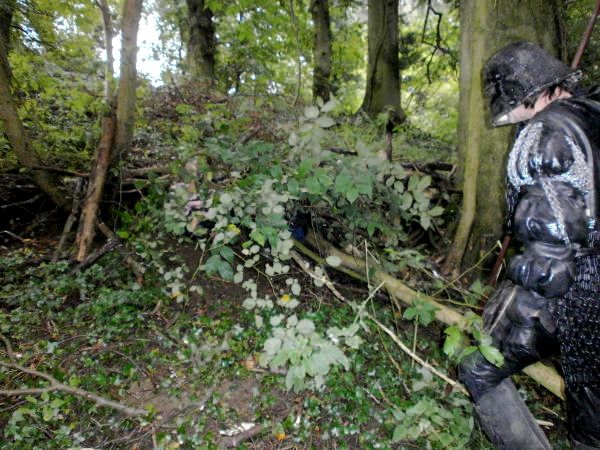 Orc on patrol? The children are securely hidden in their den.
Back in school apparently it was hard to get the children talking about anything else, the consensus was that it had been an 'awesome' day, now it was time to see what work would come out of it.
Many thanks to the staff at the National Trust for encouraging us to make use of the public access land adjacent to Farnborough Hall in this way
Thanks to Mike and Will for the photos.