Voyages to the House of Diversion
Seventeenth-Century Water Gardens and the Birth of Modern Science

November/December 2019 - Closing down and Opening up

The first few days of November saw us lifting the last few pots from the south side of the island and getting them safely undercover. Following the departure of our long term finds assistant we continued with a reorganization of the finds store and large scale washing and drying of finds on site. It is always something of a revelation, and part of the pleasure, to see really interesting material emerging from its coating of mud. The first week's real find was a quantity of decorated wall plaster, although we have suspected for some time that some of this had been moulded the most recent crop has a fine combed scalloped decoration, really quite attractive.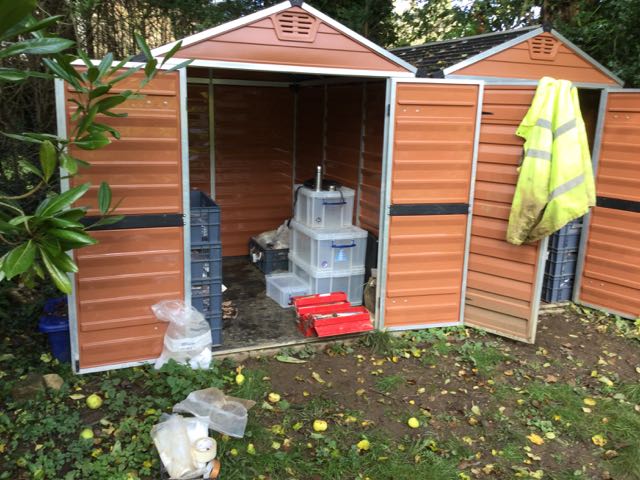 The finds hut number 1 being sorted out.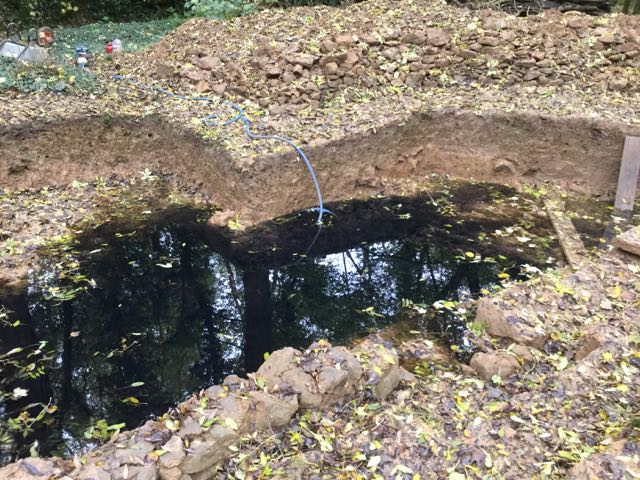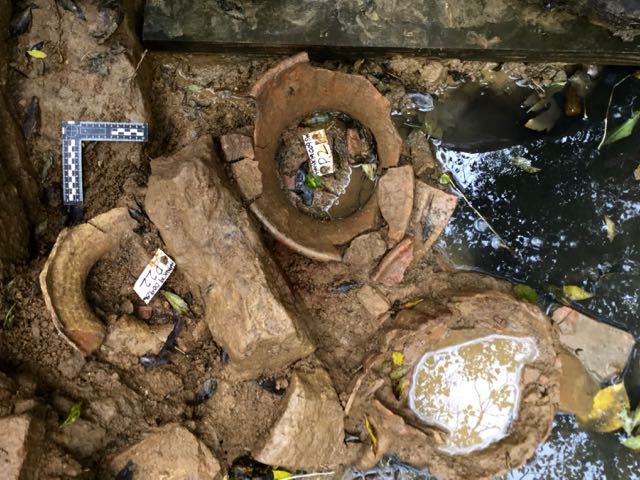 the Black Lagoon awaiting its creature... but after serious pumping we were able to access the three final pots.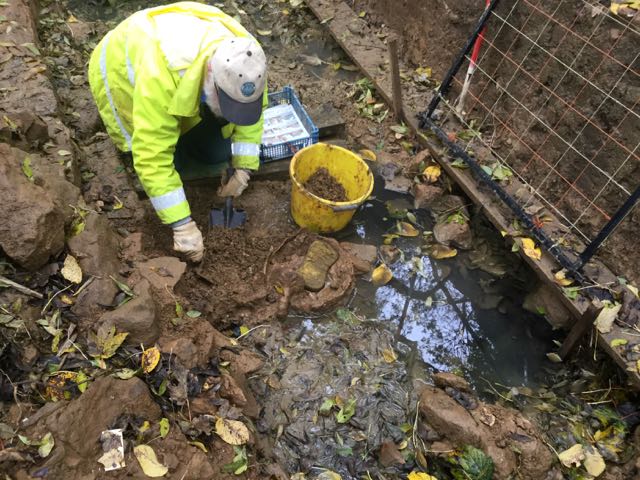 ... and here is Ian excavating the last of them.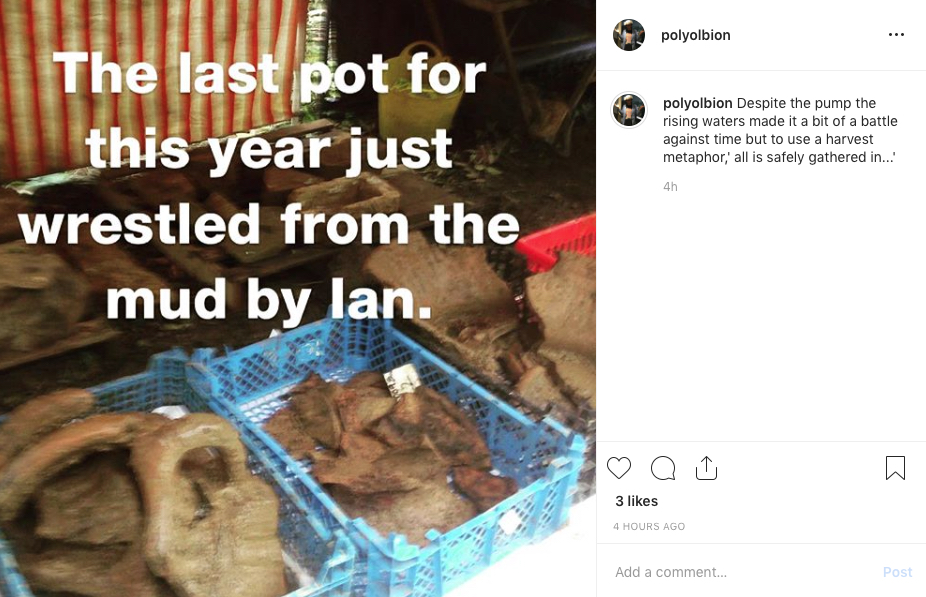 For anyone who has not seen it here is the relevant Instagram feed, just three likes but more came along later.
The second week in November continued with the wet, wet, wet theme and so we officially abandoned all hope of further digging this winter on the main site. We did revisit the small trench on the south east corner of the water parterre, thanks Peter for that, but our main efforts went into relocating the finds department back up the observatory where we could at least keep our heads above water. Shifting all the architectural fragments up there was probably the biggest challenge and thanks to Ian for his help with the move.
Finds washing continued and a special word of thanks to Chris who bravely struggled on with her hands in cold water to a point far beyond th call of duty. As previously the finds washing continues to turn up fascinating features including a pot, a new form, with the initials RP elegantly scrawled on the base and a fine collection of decorated wall plaster. We also continued work on the 1664 pot carrying on with our plans for further restoration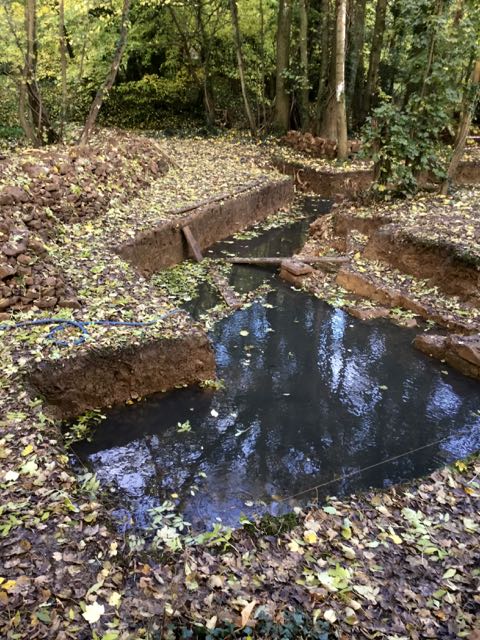 No hope now of pumping this out any time soon.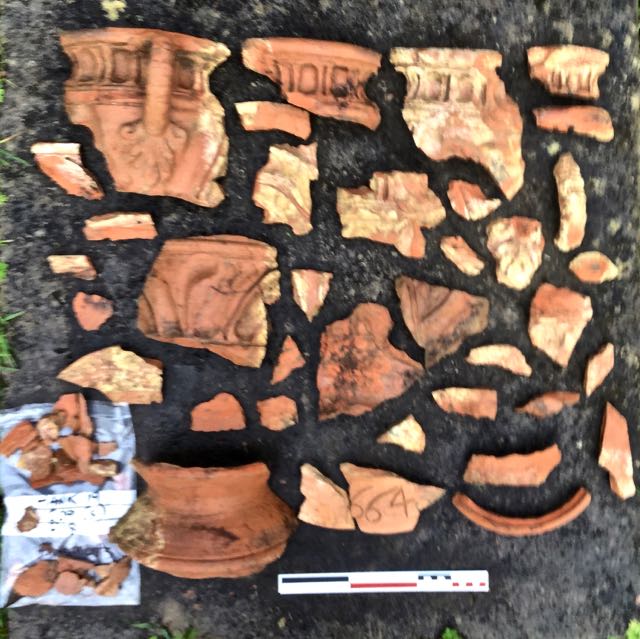 The 1664 pot in its entirety... almost, probably around 20% to locate in some of the other finds trays.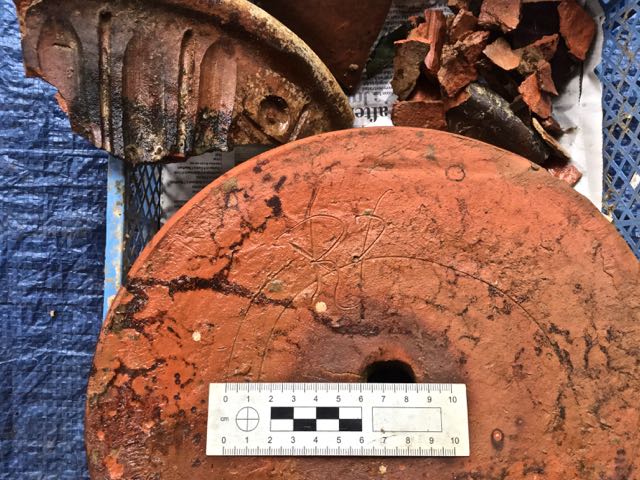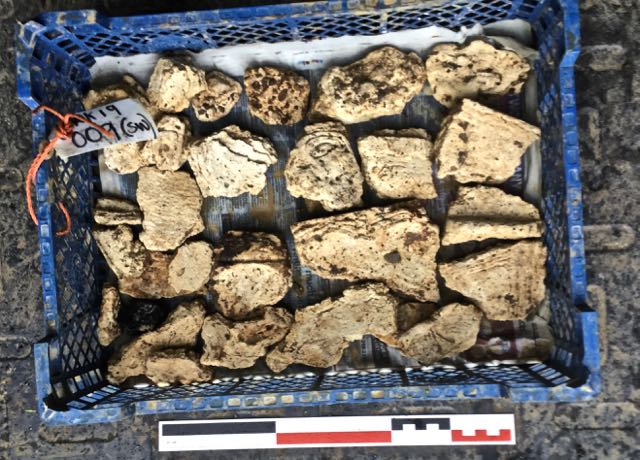 The latest inscription 'RP' presumably the potter's initials, and a box full of decorated plaster.